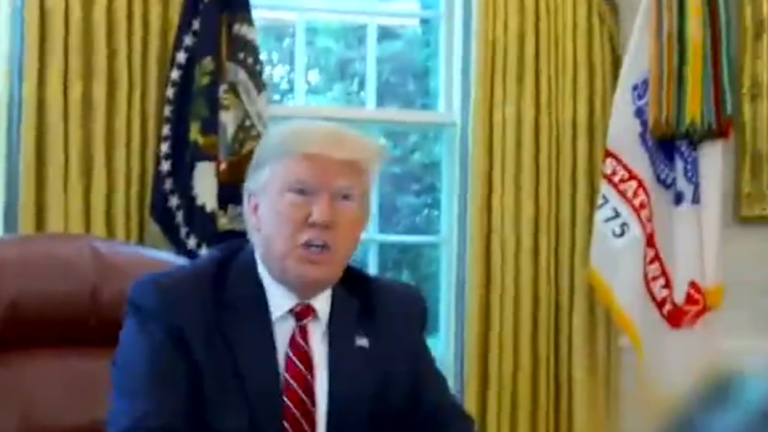 President Trump halts interview after staffer coughs
President Trump halted an interview after a White House staffer coughed in the middle of recording.
During an interview with ABC News' George Stephanopoulos in the Oval Office, Trump revealed his plan to eventually hand over his financial statements to the Senate, before the staffer can he heard coughing loudly off camera.
"Let's do that over, he's coughing in the middle of my answer," he said before adding, "I don't like that, you know?
 "If you're going to cough, please leave the room. You just can't, you just can't cough," Trump said scolding Chief of Staff Mick Mulvaney.
Trump was pressed by Stephanopoulos, on the issue of whether he would make his tax returns, "It's up to you," the ABC news anchor told him. Trump claimed, "No, it's not up to me. It's up to lawyers; it's up to everything else."
On Friday, The Justice Department backed a decision by Treasury Secretary Steven Mnuchin to deny a request from Congress for President Trump's tax returns on the basis that it lacked "legitimate legislative purpose."
Last month, a Manhattan federal judge who rejected a request by President Trump last week to block congressional subpoenas for his banking records had agreed to put the case on hold while Trump appeals the ruling.
According to Trump, his decision to withhold his tax returns by asserting without evidence that they are under audit and claiming that the public isn't interested in them. Every president since Jimmy Carter has made their tax returns available to Congress.