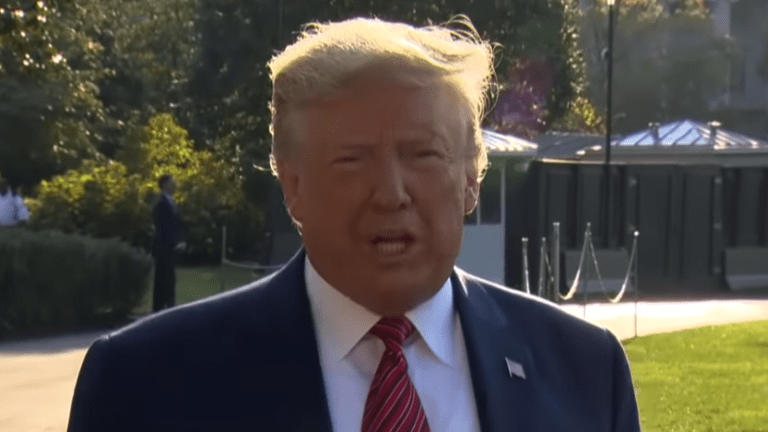 President Trump: 'China should investigate the Bidens'
President Trump is in hot water once again after he publicly urged China to look into his political rival, former Vice President Joe Biden.
"China should start an investigation into the Bidens because what happened in China is just about as bad as what happened with Ukraine," Trump told reporters outside the White House.
He added that it is "certainly something we can start thinking about, because I'm sure that President Xi does not like being on that kind of scrutiny, where billions of dollars is taken out of his country by a guy that just got kicked out of the Navy. He got kicked out of the Navy, all of the sudden he's getting billions of dollars. You know what they call that? They call that a payoff."
Trump is currently at the center of an impeachment inquiry after he admitted that he encouraged Ukranian president Volodymyr Zelenskiy to look into why that country's top prosecutor apparently had ended an investigation of the business dealings of Biden's son, who served on the board of a Ukrainian gas company.
"There's a lot of talk about Biden's son, that Biden stopped the prosecution and a lot of people want to find out about that, so whatever you can do with the attorney general would be great," Trump said according to transcripts of the call to Zelenskiy before asking him to look into it.
Zelenskiy replies that he's appointing a new prosecutor who will "look into the situation."
The Trump appears to dangle US aid to the Ukraine as a carrot:
"I will say that we do a lot for Ukraine. We spend a lot of effort and a lot of time. Much more than the European countries are doing," Trump says.
He adds that "the United States has been very very good to Ukraine. I wouldn't say that it's reciprocal necessarily because things are happening that are not good, but the United States has been very very good to Ukraine."