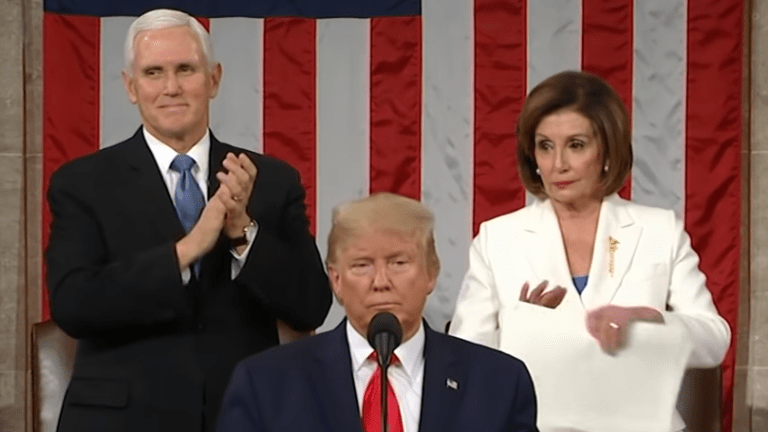 Pelosi tears up Trump speech at State of the Union
Speaker Nancy Pelosi is currently a hot topic after she ripped up her copy of President Trump's prepared remarks at the conclusion of his State of the Union address.
While lawmakers applauded Trump's rambling speech, Pelosi was clearly unimpressed. Pelosi then stood, took the printed copy of Trump's speech, and ripped it in half before placing the shredded copy in a stack on the dais.
Trump walked away to greet members of Congress. The incident came after Trump snubbed Pelosi publicly by refusing to shake her hand ahead of his speech.
 "It was the courteous thing to do considering the alternative," Pelosi told reporters as she exited the chamber. Later as she left the Capitol, she added, "It was a manifesto of mistruths.'"
During the speech, Trump touted the many accomplishments he's achieved since being in office, something which baffled the majority of viewers and most likely, the majority of the members of Congress.
"Tonight, I stand before you to share the incredible results. Jobs are booming. Incomes are soaring. Poverty is plummeting. Crime is falling. Confidence is surging. And our country is thriving and highly respected again," he said, painting a rosy picture of hs administration.
"I am thrilled to report to you tonight that our economy is the best it has ever been. Our military is completely rebuilt, with its power unmatched anywhere in the world, and it is not even close. Our borders are secure, our families are flourishing, our values are renewed, our pride is restored. And for all of these reasons, I say to the people of our great country and to the members of Congress: The state of our union is stronger than ever before."
We empathize with Pelosi...