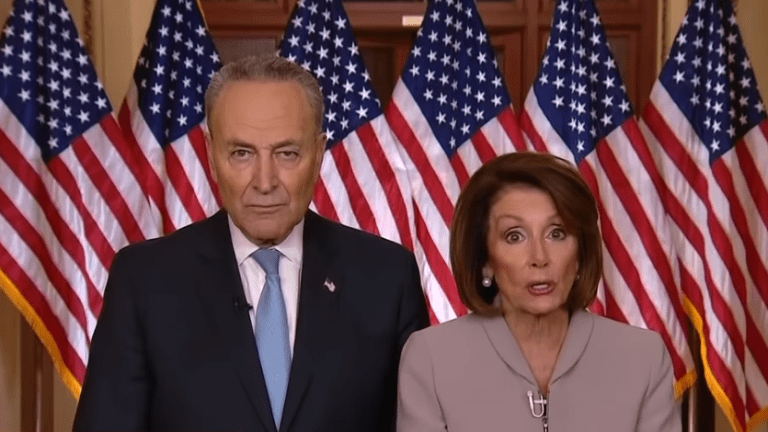 Pelosi, Schumer Accuse Trump of using Fear over Facts
Speaker Nancy Pelosi (Calif.) and Senate Minority Leader Charles Schumer (N.Y.), responded to president Trump's national address on Tuesday night, accusing him of using fear instead of facts to push his agenda.
"Sadly, much of what we have heard from President Trump throughout this senseless shutdown has been full of misinformation and even malice," said Pelosi. 
"The president has chosen fear. We want to start with the facts."
Pelosi accused Trump of rejecting bipartisan bills to reopen the government until America pays for a wall, that he, in fact, promised Mexico would pay for. Pelosi agrees that borders need to be more secure but that holding the country hostage is only "counterproductive."
"Most presidents have used Oval Office addresses for noble purposes. This president just used the backdrop of the Oval Office to manufacture a crisis, stoke fear and divert attention from the turmoil in his administration," Schumer added.
Schumer added that "the symbol of America should be the Statue of Liberty, not a 30-foot wall."
During his address, Trump claimed that the country is facing a "growing humanitarian and security crisis" at the southern border and that the shutdown is "a choice between right and wrong, between justice and injustice." 
"Separate the shutdown from the arguments over border security," Schumer said. "There is bipartisan legislation -- supported by Democrats and Republicans -- to reopen government while allowing debate over border security to continue."
"We don't govern by temper tantrum. No president should pound the table and demand he gets his way or else the government shuts down, hurting millions of Americans who are treated as leverage," Schumer continued. 
Watch their rebuttal below.