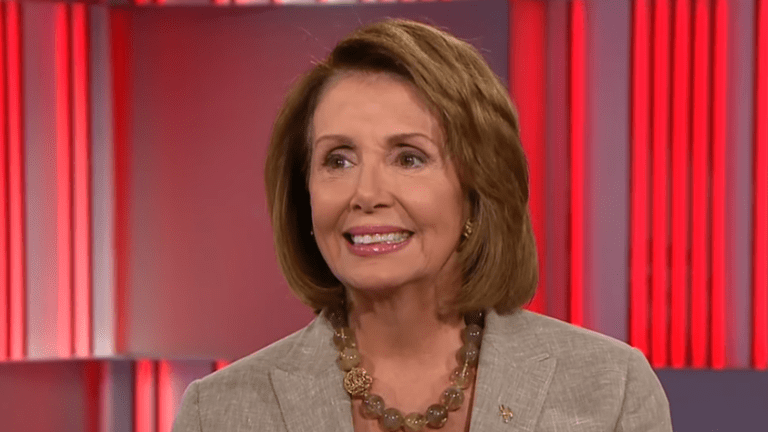 Pelosi Reportedly Questioned Trump's "Manhood" in Private
House Minority Leader Nancy Pelosi privately questioned President Donald Trump's "manhood" following a heated public meeting, reports CNN.
"It's like a manhood thing for him," Pelosi told Democratic members at a closed meeting of the Steering and Policy Committee on Capitol Hill, according to an aide in the room. "As if manhood could ever be associated with him. This wall thing."
Pelosi was gassed after dealing with Trump's impetuousness and vented to her committee.
"I was trying to be the mom," the aide said Pelosi stated to them. "I can't explain it to you. It was so wild. It goes to show you: You get into a tickle contest with a skunk, you get tinkle all over you."
Yesterday, Pelosi met with Trump in what was supposed to be a private meeting at the Oval Office. The meeting was to discuss border wall funding and the possibility of a partial government shutdown, but it all went awry when Trump got in his feelings.
Pelosi also told members that she and Senate Minority Leader Chuck Schumer got Trump to take full accountability for the possible partial shutdown, which he did in front of the cameras.
"The fact is we did get him to say, to fully own that the shutdown was his," she said to applause, according to the aide. "That was an accomplishment."
"If we don't get what we want, one way or the other ... I will shut down the government," Trump had said.
According to the aide, Pelosi also revealed that Trump is still insisting that Mexico will pay for the wall.
"He says, 'Mexico is going to pay for the wall.' I said, 'They're not paying for the wall'... He said, 'They're paying for the wall with the money we're gonna make over the newly revised USMCA,' formerly known as NAFTA, whatever it is, formerly known as NAFTA. I said, 'You're going to take the money we made from the trade agreement. Well, that's an opportunity cost, Mr. President, for American workers and our economy that's supposed to benefit from that.' "
So, the wall is still big news then...