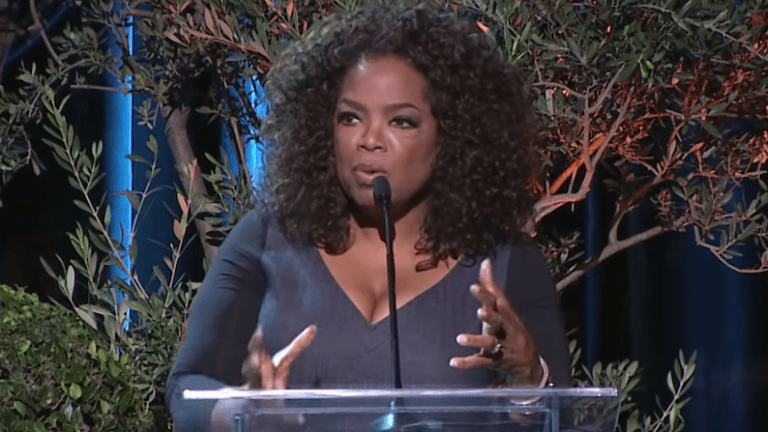 Oprah Winfrey Heading To Georgia To Campaign For Stacey Abrams
Oprah Winfrey has quite some pull when it comes to the world of politics. It's partly down to her tireless efforts that former president, Barack Obama was able to secure two terms in office.  In 2008 during Obama's presidential run, it is said that Winfrey's endorsement alone won him an additional one million votes.
Now the Oscar-nominated moguls is making a beeline for Georgia to campaign for Democratic candidate Stacey Abrams, who is running for governor. There's a lot at stake here. If Abrams secures the position of governor, she will be the first Black woman governor in the history of the US. The stakes are high.
Abrams has already received some very high profile endorsements with Obama also heading down in the southern state to rally up support. Former vice president Joe Biden and Sens. Elizabeth Warren and Cory Booker have all given Abrams their backing.
According to BuzzFeed, Winfrey will be joining Abrams on Thurs. Nov. 1, at two town hall conversations with constituents — in Cobb County and DeKalb County. Winfrey will also be knocking on doors, seeking to secure last-minute votes for Abrams.
Winfrey ignited rumors that she would run for president herself following her impassioned 2018 Golden Globes speech. 
"In my career, what I've always tried my best to do, whether on television or through film, is to say something about how men and women really behave. To say how we experience shame, how we love and how we rage, how we fail, how we retreat, persevere, and how we overcome. I've interviewed and portrayed people who've withstood some of the ugliest things life can throw at you, but the one quality all of them seem to share is an ability to maintain hope for a brighter morning, even during our darkest nights. So I want all the girls watching here now to know that a new day is on the horizon! And when that new day finally dawns, it will be because of a lot of magnificent women, many of whom are right here in this room tonight, and some pretty phenomenal men, fighting hard to make sure that they become the leaders who take us to the time when nobody ever has to say "Me too" again," she told the audience as she accepted the prestigious Cecil B. DeMille award.
Winfrey quickly put an end to the speculation and dismissed the rumors. She will not be our next president, but hopefully, she can deliver Georgia a governor they deserve and beat the good-old-boys system.
The Georgia race between Abrams, who is a former minority leader of the Georgia House of Representatives, and controversial Republican Brian Kemp, Georgia's current secretary of state is very close. Obama and Winfrey's hands-on support may just be what's need to widen the gap.
In a statement to BuzzFeed News, Abrams, said: "I am honored to have Oprah join me for uplifting and honest conversations with voters about the clear choice before us in this election and the boundless potential of Georgians."