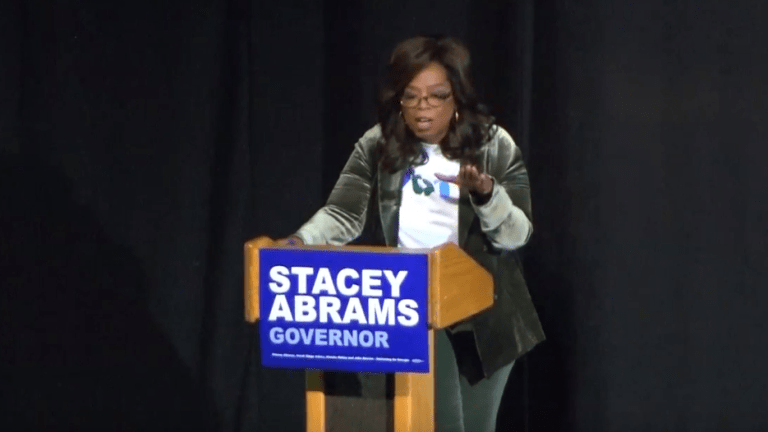 Oprah Campaigns with Georgia Democrat Stacey Abrams: "Honor Your Legacy"
Oprah Winfrey is currently in Georgia campaigning for gubernatorial candidate Stacey Abrams. The event is being streamed live on social media, but during her speech at the town hall, Winfrey stressed the importance of voting for groups that were barred from doing so in the past.
"I'm here today for the men who were lynched and humiliated and discriminated against and suppressed and repressed and oppressed for the right for the equality at the polls," she continued. "And I want you to know that their blood has seeped into my DNA and I refuse to let their sacrifices be in vain. I refuse. I'm here today to say, 'Don't let nobody turn you around!' You can't let their sacrifices be in vain.
"I came as 10,000 for all those who paved the way that we might have the right to vote," she said quoting the revered author, Maya Angelou.
"For anybody here who has an ancestor who didn't have the right to vote, and you are choosing not to vote, wherever you are in this state or this country, you are dishonoring your family," Winfrey continued. "You are disrespecting and disregarding their legacy, their suffering, and their dreams when you don't vote. So, honor your legacy."
Winfrey made reiterated the reasoning for her visit to the Peach State.
"I want to make it very clear to all the press – everyone - I'm not here making some grand stand and I'm thinking about running for myself. I don't want to run,' she told the crowd. 
"I'm not here to test any waters. I don't wanna go in those waters."