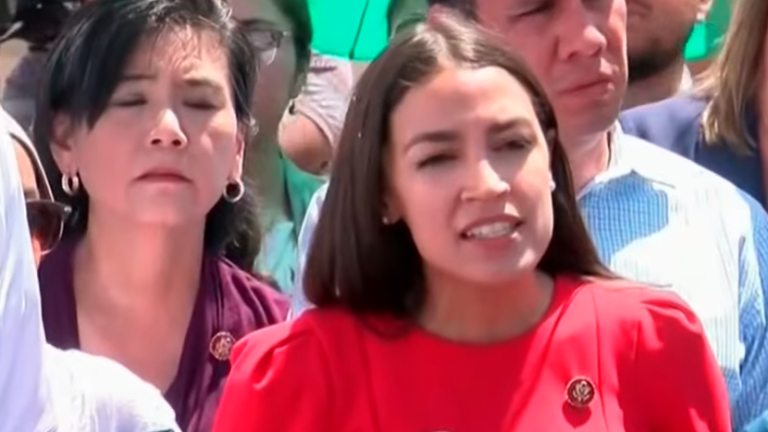 Ocasio-Cortez Slams Conditions at Southern Border Facility: 'I Was Not Safe'
Rep. Alexandria Ocasio-Cortez has slammed the conditions of two border detention facilities during a scheduled visit.
Rep. Alexandria Ocasio-Cortez was among the Democratic lawmakers who toured a facility amid growing reports of squalid conditions for detained migrants at the border.
According to AOC, she saw migrants drinking out of toilets, which a Border Patrol official flatly denied. She also claimed that she felt unsafe during the visit.
"People (are) drinking out of toilets, officers laughing in front of members Congress," Ocasio-Cortez said in a tweet.
"I brought it up to their superiors," she said in another. "They said 'officers are under stress & act out sometimes.' No accountability."
Speaking to CNN, she expounded on her experience:
"In the last facility, I was not safe from the officers," she said speaking on the controversial Clint facility.
Chairman Joaquin Castro, also visited the centers and told reporters, "The system is still broken." 
"It's not just about money, it's also about the standards of care," Castro told CNN. "We're going to have put a hell of a lot of pressure on the Trump administration, through appropriations, through investigations, to get them to change what they're doing."
Democratic Rep. Madeleine Dean of Pennsylvania tweeted that "conditions are far worse than we ever could have imagined" and that "this is a human rights crisis.
"(Fifteen) women in their 50s- 60s sleeping in a small concrete cell, no running water. Weeks without showers. All of them separated from their families," Dean wrote on Twitter.
Meanwhile, Sen. Cory Booker has vowed to close all detention centers if elected president.