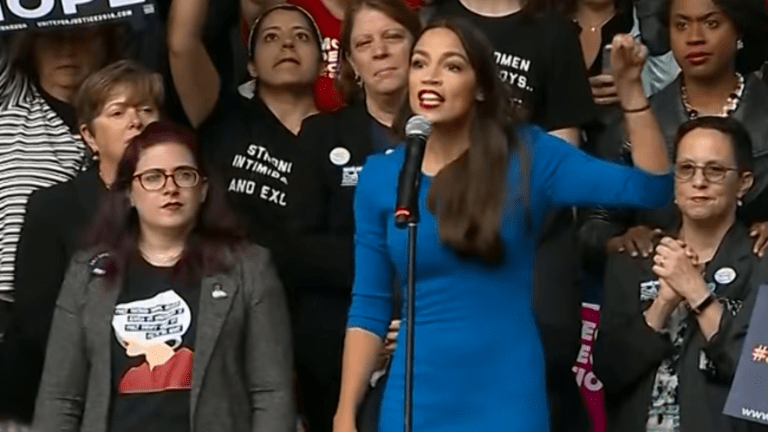 Ocasio-Cortez slams 23 Republicans who voted against anti-hate resolution
Rep. Alexandria Ocasio-Cortez has slammed the 23 Republicans who voted against a House resolution condemning hate and bigotry. 
"Where's the outrage over the 23 GOP members who voted NO on a resolution condemning bigotry today? Oh, there's none? Did they get called out, raked over, ambushed in halls and relentlessly asked why not? No? Okay. Got it," she tweeted on Friday morning.
During Thursday's vote, 23 Republicans voted against the resolution.
 But Rep. Liz Cheney responded to Ocasio-Cortez's tweet, turning to point the finger back at the Dems.
"Here's the outrage: your party put a sham resolution on the floor designed to protect the anti-Semitic hate and bigotry of @IlhanMN," Cheney tweeted.
The House voted to support the resolution, which "encourages all public officials to confront the reality of anti-Semitism, Islamophobia, racism, and other forms of bigotry, as well as historical struggles against them, to ensure that the United States will live up to the transcendent principles of tolerance, religious freedom."
The vote stems from Rep. Ilhan Omar after she implied that politicians who support Israel do so out of allegiance to a foreign country. 
"I want to talk about the political influence in this country that says it is OK for people to push for allegiance to a foreign country," she said last week.
Some took Omar's words to be anti-semitic and blasted her for her comments.
Here are the 23 Republicans who voted against the resolution:
Andy Biggs of Arizona
Mo Brooks of Alabama
Ken Buck of Colorado
Ted Budd of North Carolina
Michael Burgess of Texas
Liz Cheney of Wyoming
Chris Collins of New York
K. Michael Conaway of Texas
Rick Crawford of Arkansas
Jeff Duncan of South Carolina
Louie Gohmert of Texas
Paul Gosar of Arizona
Tom Graves of Georgia
Peter T. King of New York
Doug LaMalfa of California
Thomas Massie of Kentucky
Steven M. Palazzo of Mississippi
Mike D. Rogers of Alabama
Chip Roy of Texas
Greg Steube of Florida
Mark Walker of North Carolina
Ted Yoho of Florida
Lee Zeldin of New York