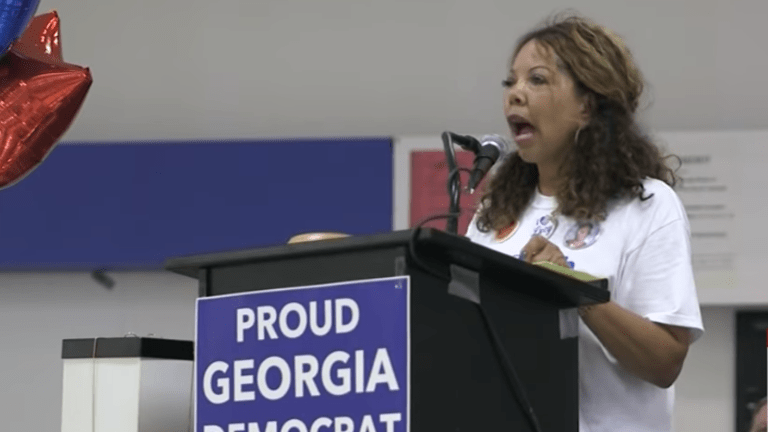 NRA president apologizes for remarks about Black Congresswoman
The newly-elected president of the National Rifle Association has issued a public apology following highly controversial remarks she made about Black Congresswoman Rep. Lucia "Lucy" McBath (D-GA).
Carolyn Meadows came under fire after she told her hometown newspaper that McBath's stance on gun reform was not the reason for her improbable electoral victory in 2018 - but it was all about her race.
"That didn't have anything to do with it," Meadows said in an interview with the Marietta Daily Journal. "It had to do with being a minority female."
Since then, a spokesperson for Meadows issued a statement to the newspaper apologizing for "insensitive and inappropriate" comments she made about McBath's 2018 electoral win.
"I apologize to Rep. McBath and her supporters," she said. "My comments were insensitive and inappropriate. I did not intend to discredit the congresswoman or the merits of her campaign — only to reflect my view that the Second Amendment was not a prevailing factor in this election," she said per the Washington Post.
McBath is been championing gun controls and explained to her Twitter followers that she is driven by the 2012 shooting death of her son Jordan Davis.
"I was just a Marietta mom. I loved my son Jordan more than anything else in this world. After Jordan was murdered – I realized that nobody was going change our laws for us, so I had to do it myself," she wrote.
"After Jordan was ripped away from me, I did not stop being his mom. Every single thing that I do is out of the love that I have for my son. My love for Jordan is what I extend to the work I do in my community every single day."
She added "My work on gun violence, healthcare, and many other issues is just starting. And yes – as a woman of color I am proud to be part of the most diverse class in American history. My experiences drive the work I am doing for my constituents. And nobody can take that away from me."