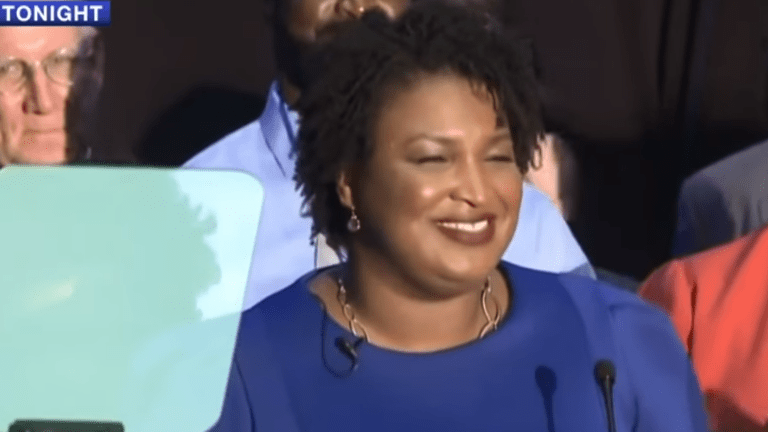 Neo-Nazi Robocalls Target Oprah, Stacey Abrams in Georgia Gubernatorial Race
A neo-Nazi funded racist robocall targeted Georgia's Democratic gubernatorial candidate Stacey Abrams and media mogul, Oprah Winfrey, last Friday.
Winfrey joined Abrams down in Georgia last week to help her rally up some much needed last-minute votes, in the race to the mid-term finish line.
Funded by The Road to Power website, CNN reports that unsuspecting voters received calls from a voice claiming to be the media mogul, CNN reports. The call aimed to deter voters from voting for Abrams, called Oprah a "magical negro" and Abrams a "poor man's Aunt Jemima." The call also claimed that "white women can be tricked into voting for [Abrams], especially the fat ones."  
Abrams' camp was quick to respond to the racially-charged smear campaign. Abrams' spokeswoman Abigail Collazo said, "These automated calls are being sent into homes just days before President Trump arrives, reminding voters exactly who is promoting a political climate that celebrates this kind of vile, poisonous thinking." 
This isn't the first time the white supremacist group has targeted a Black, Democratic representative. Florida voters also received calls from the same organization during the gubernatorial race between Andrew Gillum and Ron DeSantis.
The calls referred to Gillum as a "negro," and that healthcare will be cheap because he will give "chicken feet to people as medicine." The racist calls also claimed that Jewish people will vote for him as they put Black people in power after the Civil War. 
"Georgia has long been on a path of change and evolution," Abrams said during a campaign rally last week. She also said the election is about issues like expanding Medicaid insurance and focusing state spending on public education, job training, and small business start-ups.
"I'm the only candidate with a plan to get that done and to do that without vitriol, without vilifying people," she added.
The contentious race for Governor continues...