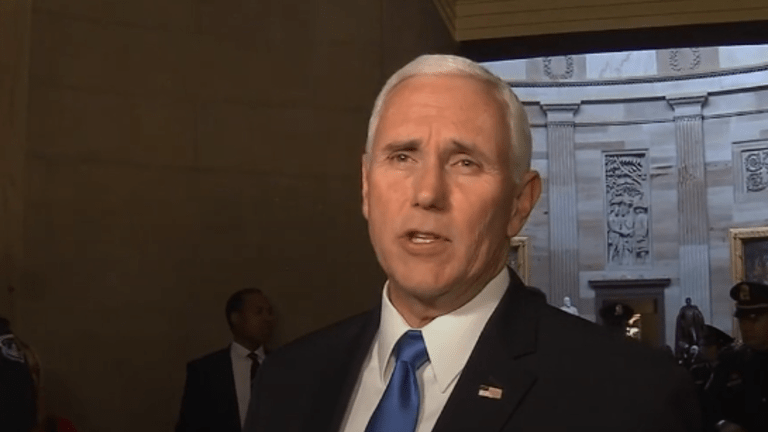 Mike Pence: "We'll have no deal without a wall."
Vice President Pence is supporting President Trump's keeping the government shut until he gets his $5.6 billion in border wall funding.
Speaking to Fox News's Tucker Carlson, Pence said:
"What we completely focused on is keeping the president's promise to build a wall, to pass legislation that provides other support for border security." 
He also spoke about a Deferred Action for Childhood Arrivals (DACA) deal.
"There are a lot of people talking about a lot of different ideas," Pence said. "The better part of a year ago, the president expressed a willingness to deal with the issue of Dreamers in a compassionate way for people who were brought here as children for no fault of their own." 
Trump's request for border wall funding caused a government shutdown on Dec. 22 and is now on its 14th day.
"We're here to make a deal but it's a deal that's gonna result in achieving real gains on border security, and you have no border security without a wall. We'll have no deal without a wall." 
Trump has said that the government will remain shut for as long as it takes, and shows no signs of budging unless he receives full funding for the wall, even though he promised that Mexico would be paying for it and not the American taxpayers.
"The Shutdown is only because of the 2020 Presidential Election. The Democrats know they can't win based on all of the achievements of "Trump," so they are going all out on the desperately needed Wall and Border Security - and Presidential Harassment. For them, strictly politics!" he tweeted on Thursday.