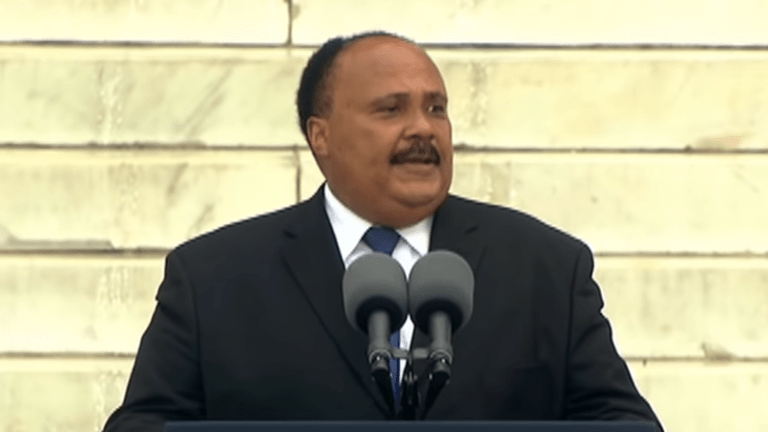 Martin Luther King. Jr's Son calls Pence out for Trump Comparison
The son of Martin Luther King Jr.has slammed Vice President Mike Pence for using his father's iconic speech to make an argument for Trump's pointless border wall.  
"The vice president attempted to compare the president to Martin Luther King Jr. Martin Luther King Jr. was a bridge builder, not a wall builder," Martin Luther King III said on Monday, per The Atlantic.
"Martin Luther King Jr. would say, 'Love, not hate, will make America great,'" Martin Luther King III, who was in Washington D.C. to mark the national holiday celebrating his father, added.
Pence appeared on CBS's "Face the Nation" and said:
"one of my favorite quotes from Dr. King was, 'Now is the time to make real the promises of democracy,'" the vice president said. "You think of how he changed America. He inspired us to change through the legislative process to become a more perfect union."
"That's exactly what President Trump is calling on the Congress to do," he continued. 
Trump is demanding over $5 billion in funds for a border wall, and in exchange, he offered temporary protections for certain immigrants DACA recipients.
"Walls are not immoral," he said also stating that the wall "will save many lives and stop drugs from pouring into our country
"This is not a concrete structure from sea to sea - These are steel barriers in high-priority locations."
The Dems have rejected his offer. 
"It is unlikely that any one of these provisions alone would pass the House, and taken together, they are a non-starter," Speaker of the House, Nancy Pelosi said in a statement. 
"For one thing, this proposal does not include the permanent solution for the Dreamers and TPS recipients that our country needs and supports." 
The shutdown continues.