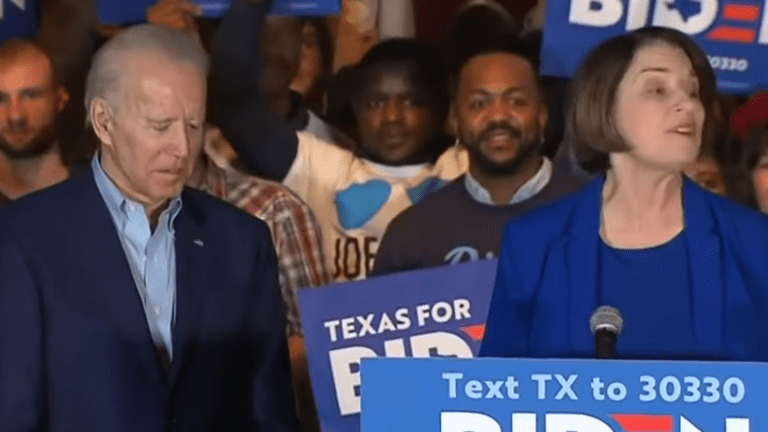 Klobuchar ends 2020 bid to endorse Biden
Minnesota Democratic Sen. Amy Klobuchar has ended her presidential campaign ahead of Super Tuesday and, according to several reports, will be endorsing former vice president Joe Biden.
Klobuchar endorsed Biden at a rally in Dallas on Monday night, ahead of the Super Tuesday primary elections. "I cannot think of a better way to end my campaign than joining his," she told the crowd.
Texas is one of the 14 states holding contests on Super Tuesday.
"The Klobuchar campaign confirms the senator is flying to Dallas to join Vice President Biden at his rally tonight where she will suspend her campaign and endorse the vice president," said Carlie Waibel, the Klobuchar campaign press secretary per AP.
On Sunday, South Bend mayor Pete Buttigieg dropped out of the race. It is also expected that he will endorse Biden.
"Sometimes the longest way around really is the shortest way home," he told supporters.
"The truth is that the path has narrowed to a close, for our candidacy if not for our cause," he said, adding, "Tonight I am making the difficult decision to suspend my campaign for the presidency."
"After a year of going everywhere, meeting everyone, defying every expectation, seeking every vote, the truth is that the path has narrowed to a close for our candidacy, if not for our cause," Buttigieg said.
President Donald Trump thinks the timing of it all it suspect:
"Pete Buttigieg is OUT. All of his SuperTuesday votes will [go] to Sleepy Joe Biden. Great timing. This is the REAL beginning of the Dems taking Bernie out of play - NO NOMINATION, AGAIN!" he tweeted.