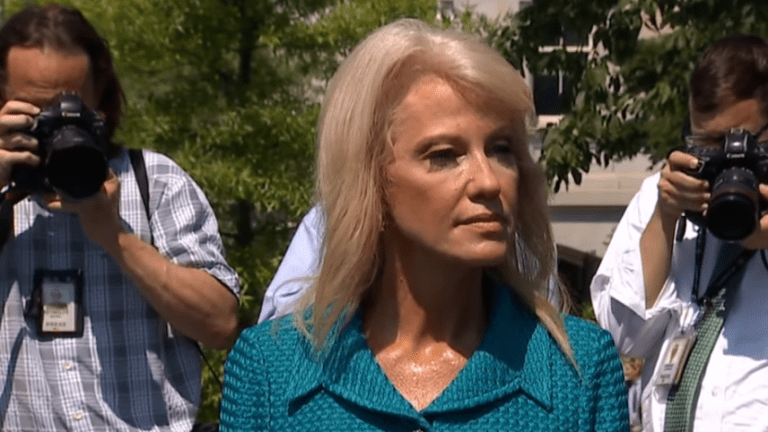 Kellyanne Conway Flamed for Asking Jewish Reporter, 'What's Your Ethnicity?'
White House counselor Kellyanne Conway has come under fire once again after she asked a Jewish reporter what his ethnicity was during a press conference.
The reporter, Andrew Feinberg asked Conway which countries President Donald Trump was referring to when he suggested Ayanna Pressley, Alexandria Ocasio-Cortez, Rashida Tlaib, and Ilhan Omar "go back" to where they came from. 
"What's your ethnicity?" Conway asked Feinberg, who was thrown by her question.
"Uh... why is that relevant?" Feinberg, he asked before Conway interrupted, "Because I'm asking you a question."
"My ethnicity is not relevant to the question I'm asking you. My ancestors are from Ireland and Italy." 
"My own ethnicity is not relevant to the question I'm asking," the reporter replied. "No, no, it is," Conway said. "Because you're asking what [Trump] said about 'originally.'"
Instead of walking back and apologizing for Trump's overtly racist remarks, the White House is backing the president, forsaking common decency for a shot of securing another four years under his leadership.
Trump denies being a racist:
"Those Tweets were NOT Racist. I don't have a Racist bone in my body!" 
She then embarked on a racist rant on behalf of the president:
 "[Trump's] tired. A lot of us are sick and tired in this country of America coming last. Sick and tired of our military being denigrated," Conway continued. 
"Sick and tired of Customs and Border Protection people I was with—who are overwhelming Hispanic, by the way, in McAllen, Texas—sick and tired of them being criticized, being doxed by a bunch of Hollywood D-listers who have nothing else to do but sit on their asses on Twitter all day and try to dox brave men and women who are diving into the Rio Grande to save people who are drowning."