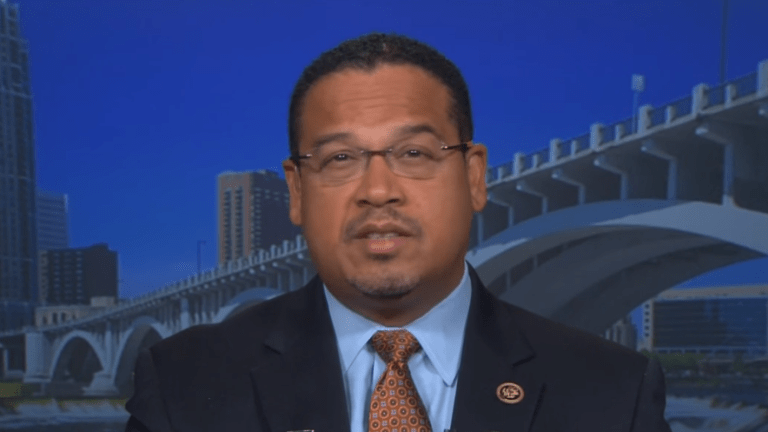 Keith Ellison's Attorney General Bid Suffers Amid Allegations Of Abuse
Democratic representative Keith Ellison faces an uphill battle after his campaign in the race for Minnesota attorney general following recent claims of physical abuse and sexual misconduct.
Two months ago, Ellison's ex-girlfriend Karen Monahan, accused him of physical and emotional abuse. In a series of tweets back in September, Monahan posted a computer printout of notes from a Park Nicollet doctor. Although the notes stated that there were no visible physical injuries, Monahan's anemic state was attributed to her living in such an allegedly abusive environment.
It was her son, Austin Monahan who initially made the allegations public. In a lengthy Facebook post, Austin went into details about a particular incident he witnessed back in 2017.
"[...] n the middle of 2017, I was using my moms computer trying to download something and I clicked on a file, I found over 100 text and twitters messages and video almost 2 min long that showed Keith Ellison dragging my mama off the bed by her feet, screaming and calling her a "f*cking b*tch" and telling her to get the f*ck out of his house," he wrote. "The messages I found, were mixed with him consistently telling my mom he wanted her back, he missed her, he knew he f*cked up and we wished he could do things different, he would victim shaming, bully her, and threaten her if she went public. I text him and told him I know what you did to my mama and a few other things.
I met up with my mom that night and asked her what happened. She said nothing happened until I told her I saw a video and hell of a lot of messages saying something different. She finally talked. My brother and I were so angry and hurt for our mom. We were ready to go public but our mom begged us not to and she along with others convinced us it wasn't in our moms best interest..."
His mother backed up her son's claims and tweeted Ellison directly.
"What my son said is true. Every statement he made was true.@keithellison, you know you did that to me. I have given every opportunity to get help and heal. Even now, u r willing to say my son is lying and have me continue to leak more text and info just so others will believe him"
Ellison has emphatically denied the allegations but to no avail. He is trailing behind Republican opponent Doug Wardlow by 7 percentage points according to the most recent Minneapolis Star Tribune/MPR News survey.
Last week, it was reported that Ellison was in the conference room at the state Capitol, urging potential voters to pay closer attention to his opponent's history.
"On Nov. 7, I don't want people to wake up to the reality of Doug Wardlow," Ellison said. "They need to wake up to it now, what he stands for now."
And he's right. Wardlow has been reported to have stated that he would fire 42 DFL lawyers in the attorney general's office and replace them with Republican attorneys and has pledged to "make Minnesota more red." He's about as pro-Trump as it gets.
Back in 2016, Wardlow defended a funeral home owner from Michigan who fired an employee who was transitioning from a man to a woman. The employee intended on switching from the men's uniform to the full female attire, but Wardlow argued that the act would violate his client's religious beliefs. Fast forward to 2018 and Trump is preparing to remove the very definition of transgender out of existence.
"Another day, another baseless and desperate attack from a failing campaign," Wardlow's campaign manager Billy Grant said. "Doug Wardlow is committed to defending and protecting all Minnesotans."
Speaking to Fox9, Ellison made it clear that he would not be delving any further into the allegations against him for know throughout his campaign.
"I need to talk about equality and justice," he told them. "I think the only poll that matters is going to be on Nov. 6. I think we're going to work 24 hours a day to clarify the issues in this race."