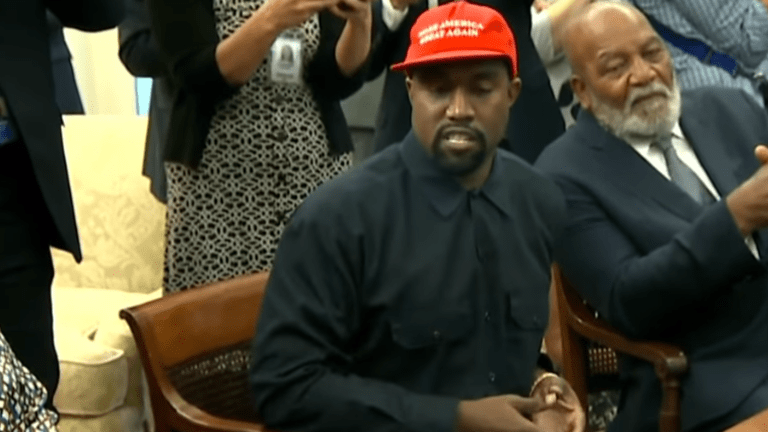 Kanye West Denies 'Blexit' Clothing Line; Distances Himself From Politics
Can Kanye West go a week without a Trump-related scandal? Recently, the answer is "no."
We've all watched (and cringed) at West's public support of Donald Trump and the Republican party, even going as far as to discourage young, Black voters from voting for the Democratic party. Earlier this week West was linked to Candace Owens' 'Blexit' clothing line, a play on the UK's controversial "Brexit" bill.
"Blexit is a Renaissance," Owens told Fox News. "Blexit is the black exit from the Democratic Party. It's the black exit from permanent victimhood, the black exit from the false idea that we are somehow separate from the rest of America."
In an interview with Page Six, she directly gave West credit, saying
"Blexit is a renaissance and I am blessed to say that this logo, these colors, were created by my dear friend and fellow superhero Kanye West."
It was a real-life 'Get Out' storyline, with West sinking deeper and deeper into the sunken place, but this week, he appeared to have come to his senses and in a series of tweets, distanced himself from Owens' 'Blexit' and politics altogether.
"I support creating jobs and opportunities for people who need them the most, I support prison reform, I support common-sense gun laws that will make our world safer.
"I support those who risk their lives to serve and protect us and I support holding people who misuse their power accountable.
"I believe in love and compassion for people seeking asylum and parents who are fighting to protect their children from violence and war.
I would like to thank my family, loved ones, and community for supporting my ACTUAL beliefs and my vision for a better world."
He then goes on to explain why he was linked to the 'Blexit' line in the first place.
"I introduced Candace to the person who made the logo and they didn't want their name on it so she used mine. I never wanted any association with Blexit. I have nothing to do with it.
"My eyes are now wide open and now realize I've been used to spread messages I don't believe in. I am distancing myself from politics and completely focusing on being creative !!!"
Owens doesn't seem to be too phased by West trning his back on her. Her clothing line has already launched. She posted a video to her Instagram page, captioned:
"WE DID IT!!! BLEXIT.COM is officially launched!! BLEXIT= the Black Exit from the Democrat Party. Support our website today! I will never in my life forget this room on this day. It was overwhelmingly emotional. I cried. We all cried. We are AMERICANS, first and foremost. Republicans are NOT racist— they are our American brothers and sisters and we will fight alongside them to fix our broken communities, absent the politics of fear. 
To every single person that showed up today, I am humbled, I am honored, and I am eternally grateful for the love we shared in this room today. 
We are warriors of love and we will usher in an era of true hope. 
#BLEXIT BLEXIT.COM"
Here's to hoping Kanye West keeps to his word and falls back from politics. His influence could have already encouraged thousands of votes from misguided young, Black voters who not only look up to him but have followed his lead.