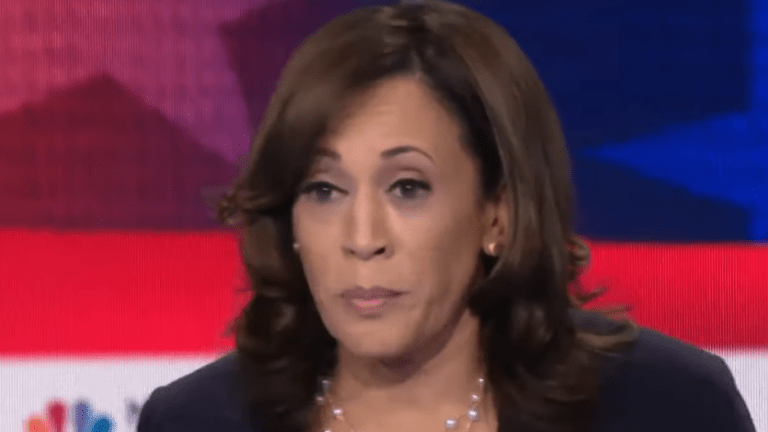 Kamala Harris 'Birtherism' Questions Draw Comparisons to Barack Obama
Sen. Kamala Harris campaign has been forced to refute claims that the former prosecutor is not American.
The allegations are similar to those which plagued former president Barack Obama.
"Kamala Harris is *not* an American Black. She is half Indian and half Jamaican," a user wrote.
 "I'm so sick of people robbing American Blacks (like myself) of our history. It's disgusting. Now using it for debate time at #DemDebate2? These are my people not her people. Freaking disgusting," another Twitter user wrote.
"Kamala Harris is implying she is descended from American Black Slaves," Ali Alexander, a member of a right-wing constellation of media personalities, wrote on Twitter. "She's not. She comes from Jamaican Slave Owners. That's fine. She's not an American Black. Period."
Rather than let the troll, troll - one of the Trumps decided to weigh in on the comment and stir the pot even further.
"Is this true? Wow," Donald Trump. Jr wrote in response to the tweet. He was forced to delete the tweet after facing backlash for the comment. His father, Trump, drew ire from much of the public when he repeatedly demanded that Obama proves that he was an American citizen during his first term in office.
Trump Jr's spokesman Andy Surabian told The New York Times:
"Don's tweet was simply him asking if it was true that Kamala Harris was half-Indian because it's not something he had ever heard before," Surabian said. "And once he saw that folks were misconstruing the intent of his tweet, he quickly deleted it."
But Harris' team were ready:
Spokesperson Lily Adams replied: "This is the same type of racist attack his father used to attack Barack Obama," she said, per to CNN. "It didn't work then, and it won't work now."
Harris' fellow Democrats hopped onto Twitter to defend her honor:
"The same forces of hatred rooted in 'birtherism' that questioned @BarackObama's American citizenship, and even his racial identity, are now being used against Senator @KamalaHarris. It's disgusting, and we have to call it out when we see it. Racism has no place in America," tweeted former Vice President Joe Biden.
"The attacks against @KamalaHarris are racist and ugly. We all have an obligation to speak out and say so. And it's within the power and obligation of tech companies to stop these vile lies dead in their tracks," Sen. Elizabeth Warren wrote.
While Cory Booker's response was more straightforward: