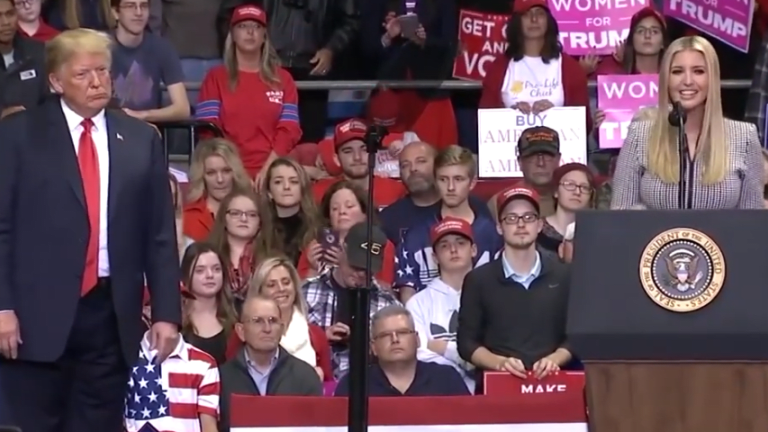 Ivanka Trump Used a Personal Account for Emails About Government Business
It has been revealed that Ivanka Trump used a personal email account for White House business.
According to the Washington Post, Trump sent emails to White House aides, Cabinet Officials and her assistants. Many of them were said to be in direct violation of federal records rules, and mirror Hillary Clinton's email scandal which possibly cost her the election.
The White House conducted an investigation into Trump's email usage and found that she used her personal email address for much of 2017. The Presidential Records Act requires all official White House communications and records be preserved.
Austin Evers, the executive director of watchdog group American Oversight, said in a statement:
"The president's family is not above the law, and there are serious questions that Congress should immediately investigate. Did Ivanka Trump turn over all of her emails for preservation as required by law? Was she sending classified information over a private system?"
President Donald Trump has and still does frequently accuse Clinton of receiving special treatment because she was not charged for skirting the Presidential Records Act with her email practices. His chants "Lock Her Up" are a regular side-show at his nationwide rally. Will he now do the same now that his daughter's errors have come to light? We very much doubt it.
The Post reported Ivanka Trump's attorney, Abbe Lowell, forwarded all the emails he believed were related to official government business to her government email account, believing that would rectify any violations of records law.
Peter Mirijanian, Ethics counsel for Ivanka Trump, said in a statement:
"Like most people, before entering into government service, Ms. Trump used a private email. When she entered the government, she was given a government email account for official use. While transitioning into government, until the White House provided her the same guidance they had to others who started before she did, Ms. Trump sometimes used her private account, almost always for logistics and scheduling concerning her family."
He continued:
"To address misinformation being peddled about Ms. Trump's personal email, she did not create a private server in her house or office, there was never classified information transmitted, the account was never transferred or housed at Trump Organization, no emails were ever deleted, and the emails have been retained in the official account in conformity with records preservation laws and rules." 
The White House is yet to comment.