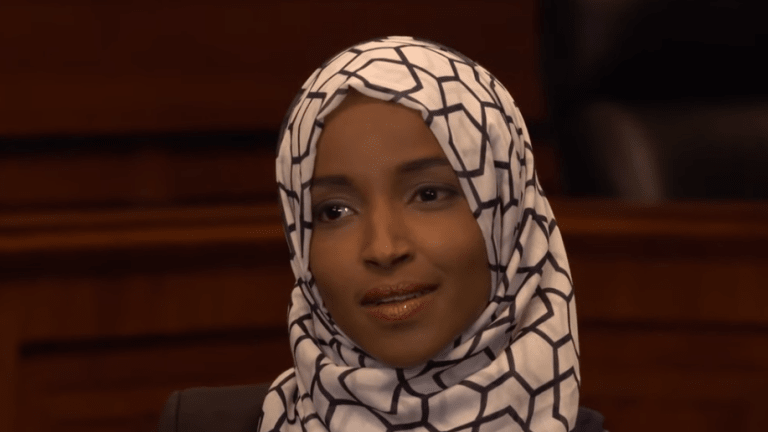 Ilhan Omar Responds to 'Send Her Back' Chants at Trump Rally
Rep. Ilhan Omar has spoken out following footage of Trump supporters chanting "send her back!" at a recent Trump rally.
The crown began chanting after remarks by President Donald Trump about Omar, mirroring the cries of "lock her up" whipped up by Trump during his 2016 election campaign against Hillary Clinton.
Trump ripped into Omar during his rally in Greenville, N.C. The rally began to boo Omar the moment that he mentioned her name.
"She looks down with contempt on the hardworking Americans saying that ignorance is pervasive in many parts of this country," Trump said of Omar on Wednesday. "And obviously, and importantly, Omar has a history of launching vicious anti-Semitic screeds."
Omar fired back at Trump:
"I am where I belong, at the people's house and you're just gonna have to deal!" she tweeted, alongside a photo of her presiding over the House chamber.
Many politicians have stepped forward to condemn the rally:
"It is against the idealistic values of America," former Trump staffer Anthony Scaramucci told CNN on Thursday morning. "For me, it's really about the ideas of America, what we stand for as a country."
The executive director of the Republican Jewish Coalition, Matt Brooks tweeted: "The 'send her back' chants were wrong, vile, and don't reflect who we are as Americans. I strongly oppose @IlhanMN views and policies, but those chants have no place in our society."
Former Republican congressman Joe Walsh also decried Trump's rhetoric:
""It saddens me beyond belief that the standard-bearer for the Republican Party, my Party, is making 'Send her back' his re-election rallying cry," he tweeted.