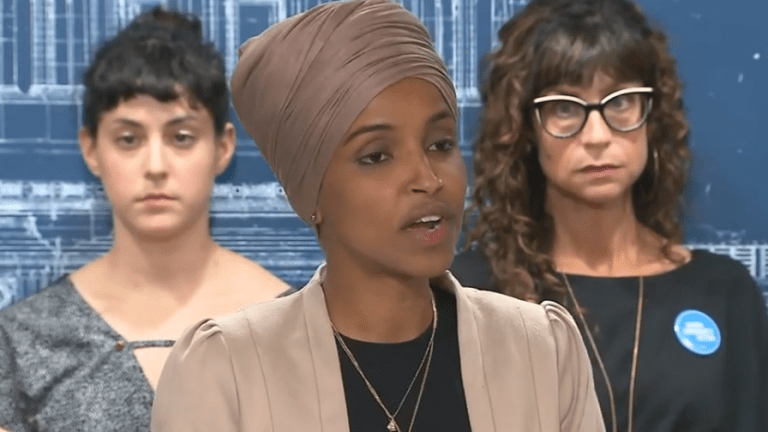 Ilhan Omar Responds to Israel's Travel Ban: 'We give Israel more than $3bn a year in aid!'
Rep. Ilhan Omar (D-Minn.)has spoken out against Israel's decision to ban her from the country.
During her statement, Omar questioned whether the funds should continue after the country barred her and Rep. Rashida Tlaib (D-Mich.) from visiting the country in an official capacity.
"We give Israel more than $3 [billion] in aid every year. This is predicated on them being an important ally in the region and the only democracy in the Middle East. But denying a visit to duly elected members of Congress is not consistent with being an ally, and denying millions of people freedom of movement or expression or self-determination is not consistent with being a democracy," Omar said at the press conference in Minnesota.
Last week, Tlaib announced that she would not go to the West Bank and Israel to visit her grandmother after Prime Minister Benjamin Netanyahu's government initially blocked her from visiting.
"Silencing me & treating me like a criminal is not what she wants for me," said Tlaib via Twitter. "It would kill a piece of me. I have decided that visiting my grandmother under these oppressive conditions stands against everything I believe in — fighting against racism, oppression & injustice."
"When I won, it gave the Palestinian people hope that someone will finally speak the truth about the inhumane conditions," Tlaib wrote in a tweet. "I can't allow the State of Israel to take away that light by humiliating me & use my love for my sity to bow down to their oppressive & racist policies."
Netanyahu had permitted for Tlaib to enter the country for a humanitarian visit to see her grandmother.
Israel is reportedly one of the biggest recipients of aid from the United States.
"We must be asking, as Israel's ally, that [Israeli Prime Minister Benjamin] Netanyahu's government stop the expansion of settlements on Palestinian lands and ensure full rights for Palestinians if we are to give them aid," Omar said.