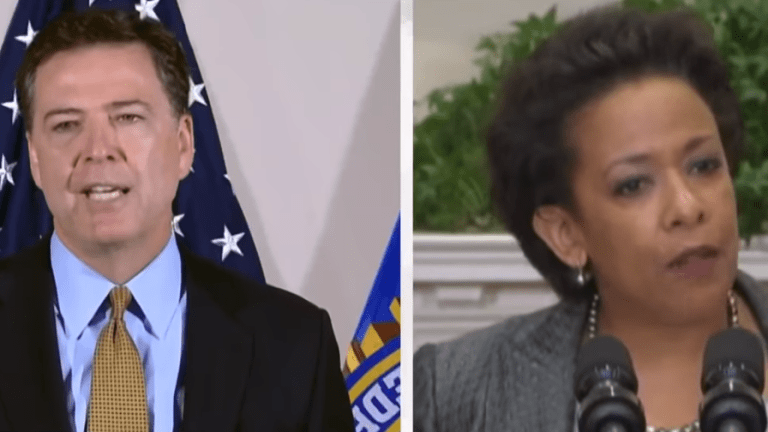 House Republicans Subpoena James Comey, Loretta Lynch for Closed-Door Testimony
House Republicans shave subpoenaed former FBI Director James Comey and former Attorney General Loretta Lynch to appear for closed-door testimony.
According to Politico, the closed door testimonies will take place on Dec. 3 and Dec. 4, respectively.
Comey had rejected an earlier invitation from the committee to testify privately, opting to choose a public testimony instead, but the Republicans went ahead with their decision to hold the hearing in private.
The Republicans have been investigating the FBI and Justice Department's decision-making in 2016 and 2017, claiming that both departments are heavily biased towards the president. Trump has always claimed that there has been a targeted effort to bring him down, calling it a "witch hunt" and demanded that they look into the Hillary Clinton email scandal. However, he failed to make issue of his daughter's email scandal earlier this month. There were certainly no chants to look Ivanka up!
Politico reports that Democrats say the GOP investigation itself is a partisan attempt to build up a conspiracy theory and protect Trump from the ongoing Russia probe, now led by special counsel Robert Mueller.
Trump has already handed in his written answers for the Russia investigation, and we currently await the response from those.
James Comey hopped onto Twitter to share the news.
 "Happy Thanksgiving. Got a subpoena from House Republicans. I'm still happy to sit in the light and answer all questions. But I will resist a "closed door" thing because I've seen enough of their selective leaking and distortion. Let's have a hearing and invite everyone to see," he tweeted.
Comey's attorney, David Kelley, also added: "Mr. Comey embraces and welcomes a hearing open to the public, but the subpoena issued yesterday represents an abuse of process, a divergence from House rules and its presumption of transparency. Accordingly, Mr. Comey will resist in Court this abuse of process."
We really do want this hearing to be held publicly. What have they go to hide?