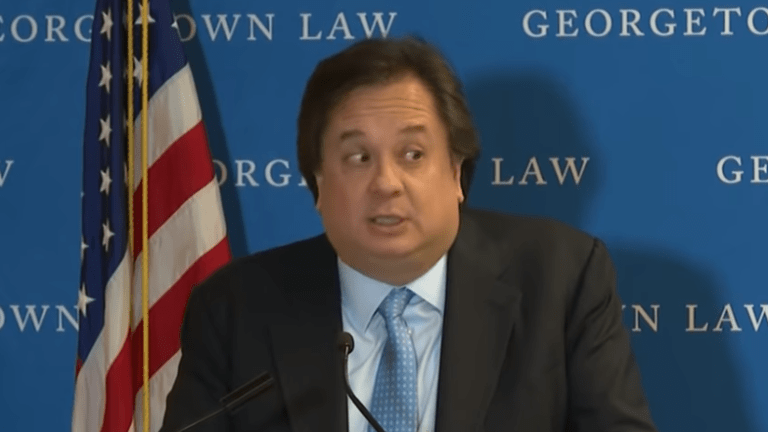 George Conway slams Trump for 'palling around' with convicted pedophile Jeffrey Epstein
George Conway has come for President Trump once again, accusing him of "palling around" with convicted pedophile Jeffrey Epstein.
On Friday morning, Trump tweeted:
"Looks to me like it's going to be SleepyCreepy Joe over Crazy Bernie. Everyone else is fading fast!"
But Conway was ready, and took Trump out in one savage tweet:
"It comes poorly from the mouth of a man who paid $130K to a porn star, bragged on camera about grabbing you-know-what, and palled around with Jeffrey Epstein, to call anyone "Creepy." RT if you agree! #DerangedDonald" he tweeted.
He then tweeted:
"And let's not get into whether he has any business calling anyone "Crazy." Good grief."
Epstein, 66, is a billionaire financier who accepted a controversial plea agreement brokered by former U.S. Attorney Alexander Acosta, now Trump's secretary of Labor.
Epstein was accused of sexually abusing dozens of underage girls at his Palm Beach mansion between 2001 and 2006 but only received 13 months in a county jail for his crimes. Epstein was out when back in March 2005, when the stepmother of one 14-year-old victim phoned the police and said a wealthy man had molested her child. 
"You have a number of girls who were very hesitant about even speaking to authorities about this because of the trauma that they have suffered and about the embarrassment," Assistant U.S. Attorney Ann Marie Villafana, told a federal judge at the time. "So we did through the non-prosecution agreement tried to protect their rights while also protecting their privacy."
The feds had identified 40 victims when Epstein signed his plea deal. Police said Epstein was using his employees and other young women to recruit underage girls for massages at his home.