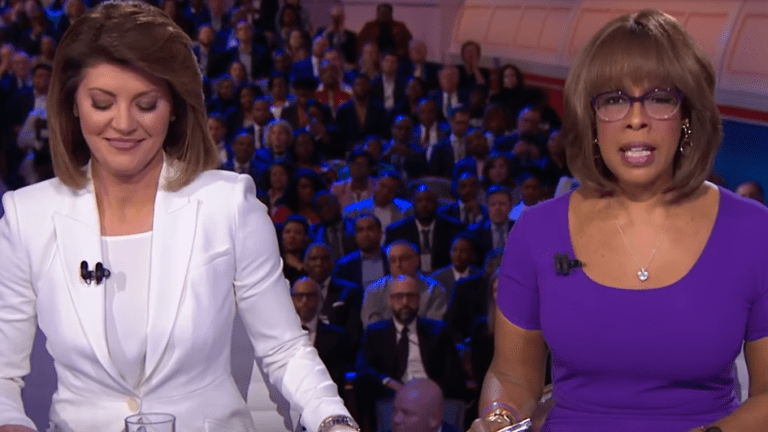 Gayle King slammed for 'losing control' of Dem debate
CBS News anchors Gayle King, and Norah O'Donnell are facing criticism after viewers of the recent Democratic debate claimed that they lost control of the discussion they were moderating.
Tuesday's debate has been slammed as a "train wreck" by viewers who allowed the debate to erupt into chaos.
"There has been a lot of finger-pointing going on. There were issues with the teleprompter and the cues," an insider told Page Six.
Another source told them that "It was a glimpse into the dynamic between Gayle and Norah." A third source added, "This debate really got out of control because there were too many cooks in the kitchen. Everybody had their own producers. It was a total train wreck with too many egos. Nobody was in full control."
During the debate, the candidates frequently ignored questions and indulged in gratuitous shouting matches with one another.
"You're the moderator, guys," Senator Bernie Sanders complained at one point, calling for order, the New York Times reports.
Halfway through the debate, King asked the candidates to keep to the time limit, -- "Good idea," former vice president Joe Biden responded.
"Good idea, right, Mr. Vice President? I promise, Mr. Vice President, we are going to get to you today," King said.
"You keep promising me that, but you haven't done it yet," he responded.
King replied: "I've never broken a promise."
"When you have that much pent-up tension and that much at stake, it makes it nearly impossible to fit tidy answers in a limited amount of time," said Michael Clemente, who has produced debates for ABC News and Fox News Channel per The Post.
King has remained in the headlines this month after an interview with WNBA star Lisa Leslie went viral. King was slammed for pressing Leslie over late NBA star Kobe Bryant's 2003 rape case, just days after his death.