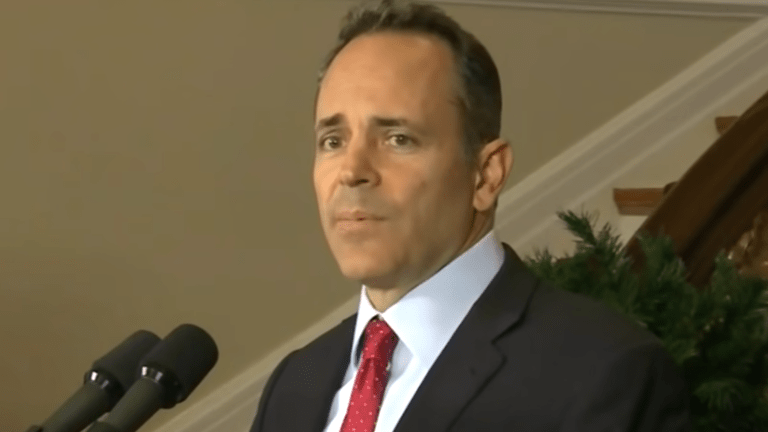 Former Kentucky Governor pardoned convicted child rapist because of intact hymen
Former Kentucky governor Matt Bevin reportedly pardoned a man convicted of raping a 9-year-old girl because the child victim's hymen was intact.
"Trust me, if you have been repeatedly sexually violated as a small child by an adult, there are going to be repercussions of this physically and medically, and there was zero evidence of that," Bevin said during a radio interview last week.
Before leaving office, Bevin issued 428 pardons and commutations of sentences, including 41-year-old Micah Schoettle.
The victim, a middle school student reported that she had repeatedly been sexually assaulted by Schoettle beginning when she was nine years old. The report was made in September 2016.
Schoettle was arrested, and on May 29, 2018, after being convicted of rape, sexual abuse, sodomy, and other sexual offenses. A judge sentenced Schoettle to 23 years in prison.
The radio interviewer asked the father of nine why he would convict a child rapist.
"Which one though, because there were a couple of people that were accused of that whose sentences I commuted," he said.
The interviewer then named Schoettle, and that's when Bevin revealed his shocking explanation.
"This man was convicted purely on something that there's no corroboration for," Bevin said. "You should not be sent to jail based simply on the word and uncorroborated word of a single individual, especially when it is possible to verify that medically and physically."
The FBI are now reportedly looking into Bevin's pardons during his last days in office.
State Rep. Chris Harris, told reporters that a criminal investigator contacted him last week and asked what he knew about Bevin's pardons.
"I can confirm that I have been contacted by someone looking into the pardons that were issued by Gov. Bevin on his way out the door," he said. "The impression I got is that there was an investigation ramping up."