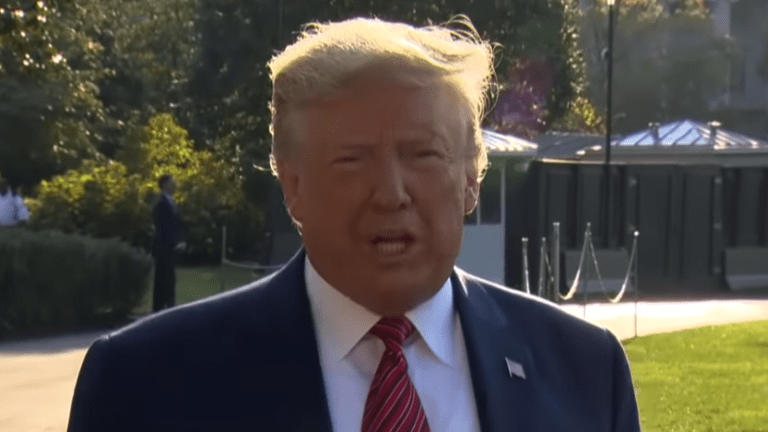 Democrats may be forced to impeach Trump after Ukraine controversy
The Democrats have been reluctant to impeach President Donald Trump - but he may well have forced their hand after his latest antics with the Ukraine president.
On Sunday, Trump on Sunday admitted that he discussed former Vice President Joe Biden in a July call with Ukraine's president.
"We had a great conversation. The conversation I had was largely congratulatory, was largely corruption -- all of the corruption taking place was largely the fact that we don't want our people like Vice President Biden and his son (adding to the corruption)," Trump told reporters of his call with Ukrainian President Volodymyr Zelensky.
His words come after Trump reportedly pressed Zelensky in the call to investigate former Vice President Joe Biden's son, Hunter, a source familiar with the situation told CNN.
House Speaker Nancy Pelosi issued a strong warning to the Trump administration who are refusing to hand over the whistleblower complaint.
"This violation is about our national security. The Inspector General determined that the matter is 'urgent' and therefore we face an emergency that must be addressed immediately," Pelosi wrote in a letter to members of Congress released Sunday. 
The letter continued, "If the Administration persists in blocking this whistleblower from disclosing to Congress a serious possible breach of constitutional duties by the president, they will be entering a grave new chapter of lawlessness which will take us into a whole new stage of investigation."
House Intelligence Committee Chairman Adam Schiff also weighed in on the issue during CNN's State of the Union:
"If the President is essentially withholding military aid at the same time that he is trying to browbeat a foreign leader into doing something illicit that is providing dirt on his opponent during a presidential campaign, then that may be the only remedy that is coequal to the evil that conduct represents," he said.