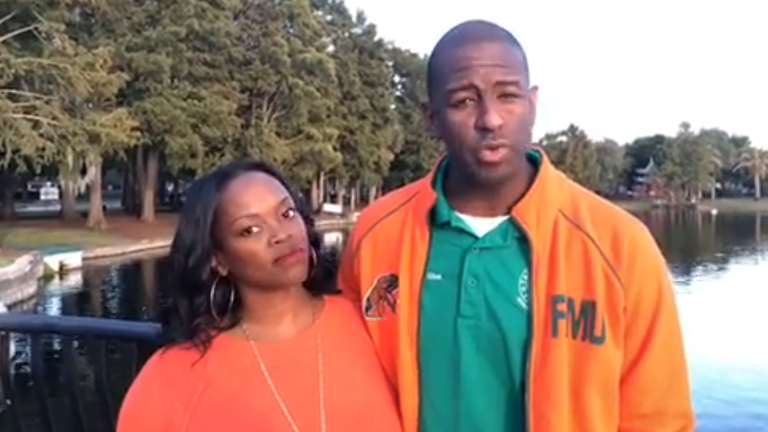 Democrat Andrew Gillum Concedes Florida Race
Democrat Andrew Gillum has conceded to Republican rival, Ron DeSantis in the race to be named Florida's governor.
Gillum took to Twitter to congratulate DeSantis after an extremely tight race.
"I want to congratulate @RonDeSantisFL on becoming the next Governor of the great state of Florida. My wife R. Jai and I could not be prouder of the way we ran this race. We could not be more thankful to my running mate, @ChrisKingFL and his wife Kristen."
He released a video on Facebook standing alongside his wife. He thanked everybody who helped him along his journey and stressed the urgency of wanting to count every single vote.
"R. Jai and I wanted to take a moment to congratulate Mr. DeSantis on becoming the next governor of the great state of Florida. This has been the journey of our lives. We've been so honored by the support that we've received from people all across the country."
He also said that the vote continues and that he will continue to stand on the frontlines.
His fans left messages of support under the video.
"Thank you for all your hard work and commitment to the people and Florida! My mom and brother just moved there and they both voted for you! If I lived there, we would have too!!! Keep up the great job, don't give up!! We need to keep Florida clean and beautiful for future generations!!!"
"My husband and I are retired Indiana PUBLIC school teachers, and we have followed your journey. Yes, we agree, you should not have lost. Keep on fighting Mayor!! You are amazing."
"Broken hearted here in Florida. You will still be making a big difference. You made those of us who voted for you, very proud."
Gillum may have lost this race, but he has most likely paved the way for an easy 2020 win.