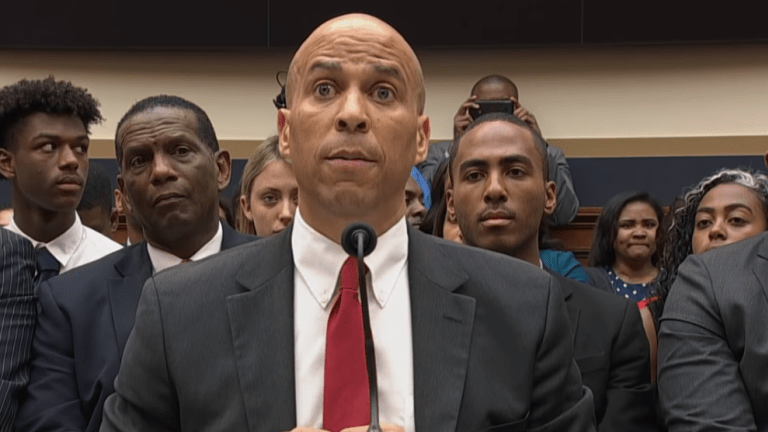 Cory Booker Tackles Prison Reform With 'Second Look' Bill
Sen. Cory Booker has introduced a new bill, the 'Second Look' bill which promises to give long-term prisoners a second chance at being a law-abiding citizen.
Booker introduced the bill alongside Rep. Karen Bass (D-CA) which would allow prisoners who have served at least ten years in federal prisons to ask for a review of their sentences. The review would enable eligible prisoners to petition the court for release.
"While the 'First Step Act' was a momentous achievement, more work remains to be done," Booker said in a statement. "Our bill targets a harsh reality: there are hundreds of thousands of people behind bars – most of them people of color – who were sentenced under draconian laws during the height of the War on Drugs that we have since recognized were unfair."
The number of prisoners aged 55 and over has increased 280 percent since 1999, according to Pew, mostly because of harsh sentencing laws that put people behind bars for decades. 
"This bill is a step to ensure that with that progress, we aren't forgetting those who did fall victim to the War on Drugs and are sitting in prison due to draconian sentencing practices for crimes that don't fit the punishment. Unjustifiably long prison sentences aren't just immoral, but also a waste of valuable federal resources," Bass said.
Booker likened the mass incarceration of Black men and women in prison to slavery:
"I hope that this creates a much bigger pathway for people to be released, to save taxpayer dollars, to reunite families," Booker said. "This system of mass incarceration that now has more African Americans under criminal supervision than all the slaves in 1850 is an unjust system, and I intend to do everything I can to tear down the system of mass incarceration."