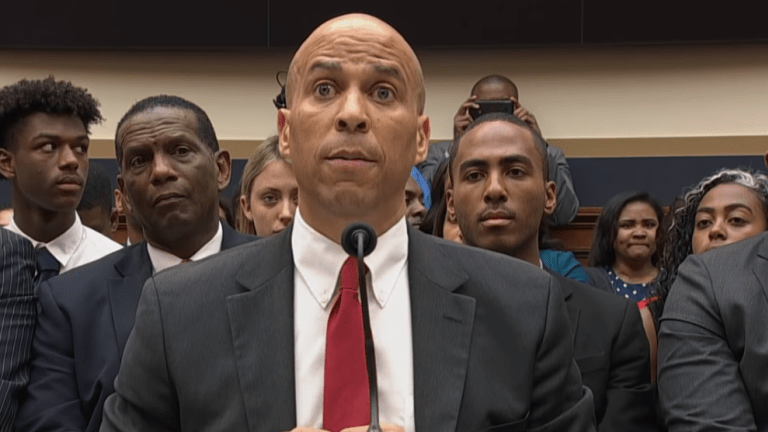 Cory Booker Qualifies to Join Third Round of Primary Debates
Presidential candidate Sen. Cory Booker has qualified to participate in the third round of Democratic debates, according to his campaign.
"We're building this campaign the right way, brick by brick from the grassroots up, and we're seeing the results of that strategy as we continue to build momentum," Addisu Demissie, Booker's campaign manager, told CNN.
Booker surpassed the higher threshold of 130,000 unique donors and more than a quarter of those donors contributed since the first June debate when he dominated in speaking time among the candidates, says his campaign.
"We're grateful to the tens of thousands of Americans who have chipped in to ensure Cory's voice will be heard in the Democratic debates this fall, and who believe in Cory's uplifting vision of building a more fair and just country for everyone," Demissie continued.
Booker is he is set to take the debate stage Wednesday with former Vice President Joe Biden and Sen Kamala Harris.
Biden, Sens. Elizabeth Warren, Bernie Sanders, and Kamala Harris will be participating in the third debate. South Bend, Indiana Mayor Pete Buttigieg and former Texas Rep. Beto O'Rouke have also qualified for third debate spots.
It will be a heated showdown as Booker called Biden an "architect of mass incarceration," last week when speaking with reporters at the annual NAACP convention in Detroit.
Biden has apologized for his part in the controversial 1994 crime bill which led to the mass incarceration of people of color. But Booker ain't biting:
"I'm disappointed that it's taken Joe Biden years until he was actually running for president to actually say that he made a mistake, that there were things in that bill that were extraordinarily bad," Booker said. "For him not to have a more comprehensive, bold plan to deal with this is unacceptable to me, especially because he is partially responsible for the crisis that we have now."