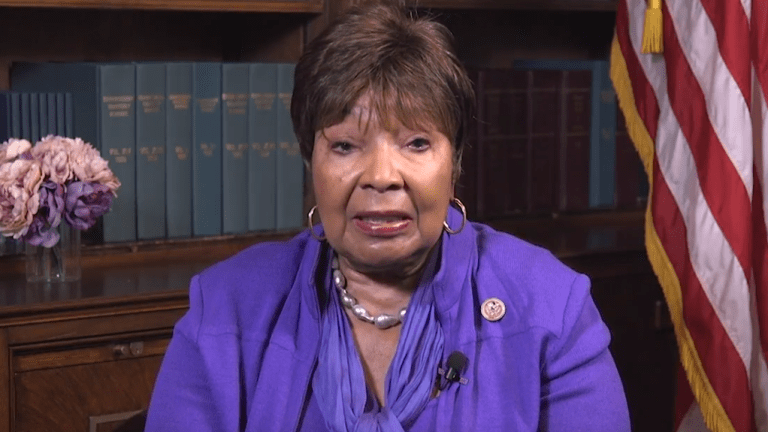 Congressional Black Caucus Member Endorses Joe Biden
Former Vice President Joe Biden has landed an endorsement from a key member of the Congressional Black Caucus (CBC.)
Texas Rep. Eddie Bernice Johnson praised Biden's "commitment to getting real work done on behalf of all Americans."
"During my tenure in Congress, I've seen firsthand Vice President Biden's commitment to getting real work done on behalf of all Americans," Johnson said in a prepared statement. 
"Now, our nation is at a crossroads," she said in a statement obtained by Dallas News.
 "We, more than ever, need a leader who can bring people together and get our country back on the right track. This is why I am proud to endorse my friend, Joe Biden, for president of the United States."
CBC members Lisa Blunt Rochester (D-Del.), Dwight Evans (D-Pa.), Al Lawson (D-Fla.), Donald McEachin (D-Va.) and Cedric Richmond (D-La.), a former CBC chairman and 'Biden's campaign co-chair have all endorsed the presidential hopeful.
Biden is currently level-pegging with California senator, Kamala Harris and the pair will be going head to head once more in the second round of the primary debates.
Biden lost some potential voters after he praised two segregationist senators, Democratic Sens. James Eastland, and Herman Talmadge as he spoke on the need for civility in politics, and then refused to apologize.
He eventually issued a statement, recognizing his ignorance:
"Was I wrong a few weeks ago? Yes, I was, and I regret it," the former vice president said Saturday at a speech in South Carolina.
"I'm sorry for any of the pain or misconception I may have caused anybody," Biden said.