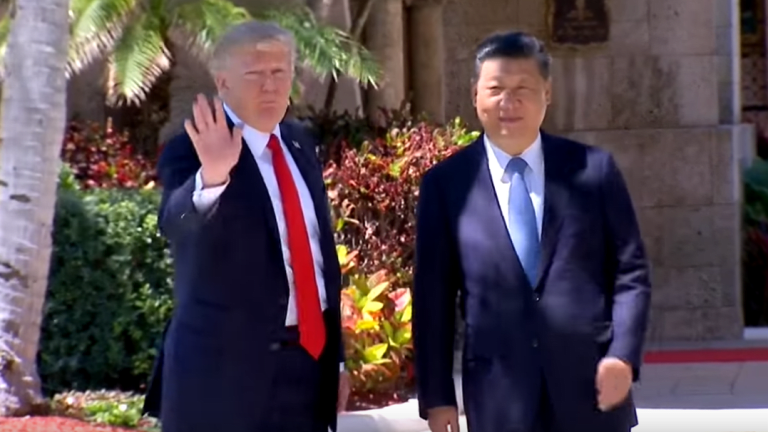 China hits United States with higher tariffs on American goods
China has returned fire to the United States, announcing plans on Monday to raise tariffs on American goods.
Beijing has announced that it will raise tariffs on roughly $60 billion worth of U.S. goods beginning Jun. 1. The move follows Friday's increase in U.S. tariffs on $200 billion value of Chinese exports from 10% to 25%. The Dow on Monday fell by more than 500 points.
U.S. and Chinese negotiators ended another round of talks on Friday without a deal to resolve American concerns on market access and intellectual property theft.
Trump hopped onto Twitter to try and deflect the crisis off his administration:
"China is DREAMING that Sleepy Joe Biden, or any of the others, gets elected in 2020. They LOVE ripping off America!" he wrote On Sunday night.
On Monday morning, he continued to 
"Their is no reason for the U.S. Consumer to pay the Tariffs, which take effect on China today. This has been proven recently when only 4 points were paid by the U.S., 21 points by China because China subsidizes product to such a large degree. Also, the Tariffs can be....." he tweeted.
"...completely avoided if you by from a non-Tariffed Country, or you buy the product inside the USA (the best idea). That's Zero Tariffs. Many Tariffed companies will be leaving China for Vietnam and other such countries in Asia. That's why China wants to make a deal so badly!...
".There will be nobody left in China to do business with. Very bad for China, very good for USA! But China has taken so advantage of the U.S. for so many years, that they are way ahead (Our Presidents did not do the job). Therefore, China should not retaliate-will only get worse!" he added.
Concluding:
"I say openly to President Xi & all of my many friends in China that China will be hurt very badly if you don't make a deal because companies will be forced to leave China for other countries. Too expensive to buy in China. You had a great deal, almost completed, & you backed out!"