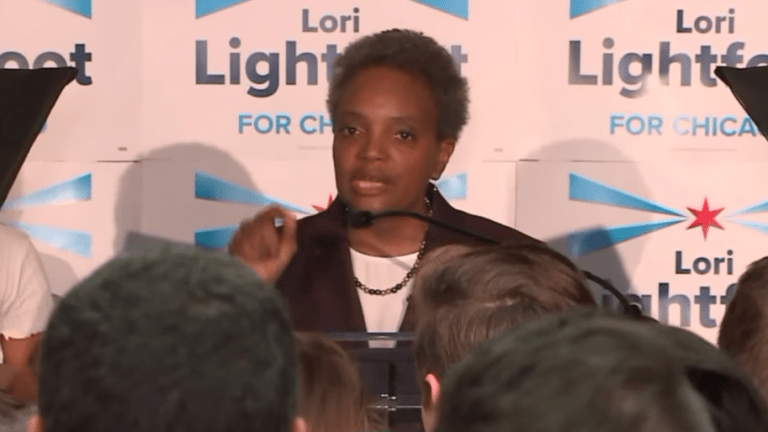 Chicago Mayoral candidate targeted by homophobic flyers
Chicago mayoral candidate Lori Lightfoot has been targeted by homophobic flyers as she campaigns to become the city's next mayor.
The openly gay politician recently addressed the hate campaign against her at a City Hall news conference earlier this week as she accepted endorsements from several labor unions, including the organization that supports CTA workers.
Lightfoot was responding to questions about the flyers, which show a photo of Lightfoot and her wife with their arms around each other. Cook County Board President Toni Preckwinkle also denounced the flyers when asked Monday.
The flyers read: 
"The Feminist and Gay Movement Have Come Full Circle!"
"The GAY EQUALITY ACT!!! ITS OUR TURN" with the words, "1st openly gay woman in City Hall" below in red ink.
The back of the flyers go on to say that Lightfoot is "pro law enforcement," and that, "All contracts, jobs, and employment newly assigned exclusively to gay people!
"With our people in City Hall, I promise to enforce the Gay Equality Act. All churches will abide by the gay marriage laws. All public restrooms will be gender free. All public schools will teach Gay History by mandate. School restrooms must be DE-SEGREGATED."
Lightfoot condemned the flyers:
"Simply put, hate has no place in Chicago.
"Any attempts by anyone to propagate hate, we have to stand together as a city and denounce it unequivocally because hate can have no place in our city," Lightfoot said.
Former Houston Mayor Annise Parker, an openly LGBTQ mayor, released a statement slamming the flyers.
"Homophobic forces attempting to derail Lori's historic candidacy are using the politics of hate and fear to mobilize anti-LGBTQ voters for Toni Preckwinkle. The attack flyers are infused with mischaracterizations of the LGBTQ community and the laws that protect them — including bigoted stereotypes that are too often used against LGBTQ candidates when their opponents get desperate. Chicagoans, regardless of who they support, must speak out forcefully against efforts to mobilize voters through bigotry."