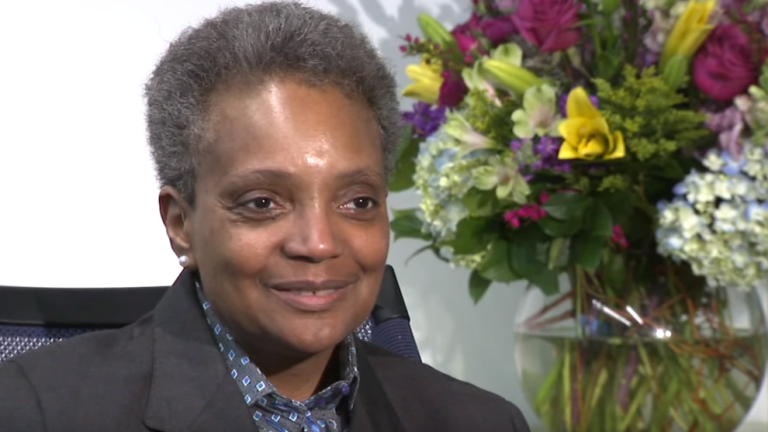 Chicago mayor Lori Lightfoot Slammed for calling Police Union VP a 'Clown' on Hot Mic
Mayor Lori Lightfoot is facing backlash after she as heard on a mic calling the vice-president of the Fraternal Order of Police, a "clown."
Patrick Murray was speaking during the prelude to the City Council meeting as Lightfoot was picked up by a live microphone calling him "this FOP clown."
Murray was defending Jason Van Dyke as he argued that "nobody worked together to form a conspiracy" and that the four police officers who were recently charged for attempting to cover up the incidents which led up to Van Dyke shooting and killing Black teenager, Jason Van Dyke.
Lightfoot, turned to her corporation counsel, Mark Flessner, and said, "Back again. This is this FOP clown," which was picked up on the livestream of the City Council meeting.
"How does she expect to work with the police department if she regularly disparages their leadership and refuses to communicate honestly with them?" Chuck Canterbury, president of the national FOP, said in a statement per the Sun-Times. "We respectfully suggest she conduct herself with more dignity and less immaturity."
And Chicago Police Department Superintendent Eddie Johnson is refusing to weigh in on the incident:
"That's between the mayor and the Fraternal Order of Police. I'm going to stay out of that fight," he told WGN9. "You know, it's just for all of us, we just have to work together to try to make this city safer."
The FOP is now demanding an apology from the mayor:
"Mayor Lightfoot's contemptuous remark is a misguided and dangerous thing to say to a 30-year veteran police officer and FOP representative, particularly at a time when the city is facing such chronic violent crime. It is also telling that the Mayor would not even apologize," The Lodge 7 statement reads.
"The red noses, however, belong on the members of the Chicago Police Board, her former agency, for their despicable decision to fire three police officers and a sergeant last week for no good reason whatsoever."