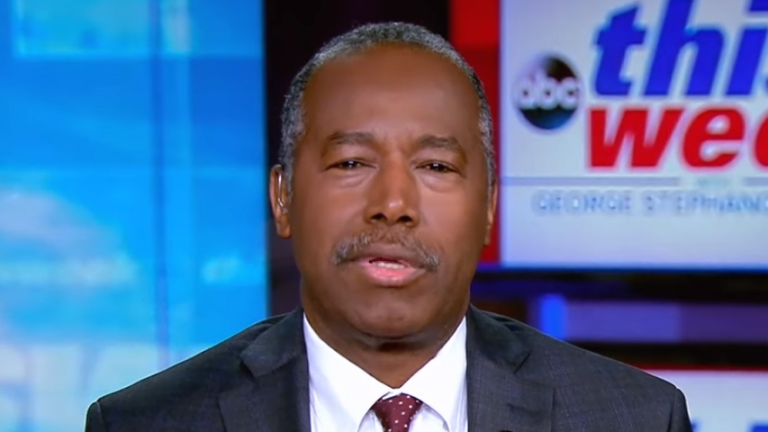 Carson slammed over poor coronavirus advice
The Trump administration is being heavily scrutinized for its handling of the coronavirus -- but HUD Secretary Ben Carson did little to quell people's unease during a recent appearance on ABC's This Week.
On the show, Carson was asked how the administration's "coronavirus task force" will deal with the 3,500 quarantined passengers of the Grand Princess cruise ship.
The ship is scheduled to dock in Oakland, California, on Monday. Carson said there is a plan, but was unable to provide any details about the plan.
"The plan will be in place by that time," Carson said, adding that the plan "hasn't been fully formulated." 
"I don't want to preview the plan right now," Carson told George Stephanopoulos.
"I think it needs to all come from a solitary source," Carson said. "We shouldn't have 16 people saying what the plan is, particularly when it hasn't been formally formulated."
President Trump has blasted the coronavirus hysteria as a "hoax."
"Now the Democrats are politicizing the coronavirus. You know that, right? Coronavirus. They're politicizing it. We did one of the great jobs . . . They tried the impeachment hoax. That was on a perfect conversation. They tried anything, they tried it over and over, they've been doing it since you got in. It's all turning, they lost, it's all turning. Think of it. Think of it. And this is their new hoax," he said at a rally in February.
"But you know, we did something that's been pretty amazing. We're 15 people [cases of coronavirus infection] in this massive country. And because of the fact that we went early, we went early, we could have had a lot more than that . . . we've lost nobody, and you wonder, the press is in hysteria mode. "
Last month, Trump announced that his vice president Mike Pence would lead the administration's response to the coronavirus.
While Pence may be pleased with the added responsibility, critics are far more wary of the appointment given Pence's track record and are eager to remind the administration about Pence's "slow and inadequate response" to the nation's first HIV outbreak linked to the injection of oral painkillers in 2015.