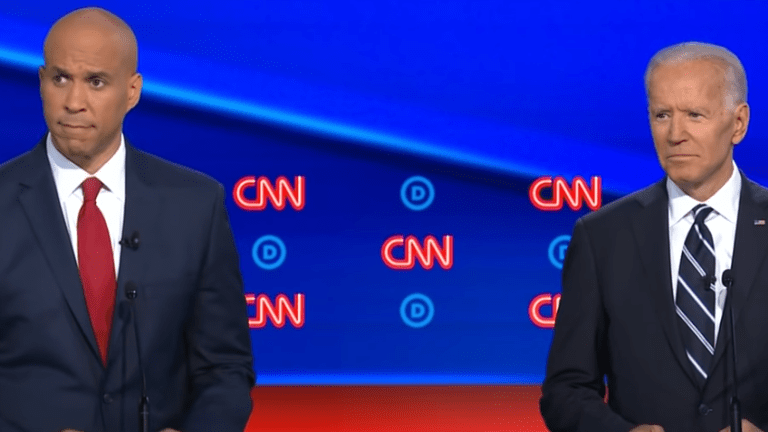 Booker to Biden: 'You're Dipping into the Kool-Aid and you don't even know the Flavor'
During Wednesday night's primary debate, Sen. Cory Booker came out on top - but the moment of the night for some was when Booker turned to former Vice President Joe Biden and told him, "you're dipping into the Kool-Aid, and you don't even know the flavor.'
Biden has stumbled during the debates on the issue of race. During the last debate, his support of segregationist senators became a hot topic and Sen. Kamala Harris rose to the top as she destroyed him over his record when it comes to civil rights.
Again, Biden faced the heat over his controversial past.
"Mr. Vice President has said that, since the 1970s, every major crime bill -- every crime bill, major and minor, has had his name on it. And, Sir, those are your words, not -- not mine. And this is one of those instances where the house was set on fire and you claimed responsibility for those laws. And you can't just now come out with a plan to put out that fire. We have got to have far more bold action on criminal justice reform, like having true," he said.
"This is one of those instances when the house was set on fire, and you claimed responsibility for those laws," Booker added.
Biden fired back, "In 2007 you became mayor and you had a police department that was -- you went out and you hired Rudy Giuliani's guy; you -- and engaged in stop-and-frisk. You had 75 percent of those stops reviewed as illegal. You found yourself in a situation where three times as many African-American kids were caught in that chain and caught up. The Justice Department came after you for saying you were -- you were engaging in behavior that was inappropriate, and then in fact nothing happened, the entire time you were mayor."
It's fair to say that the gloves came off last night!