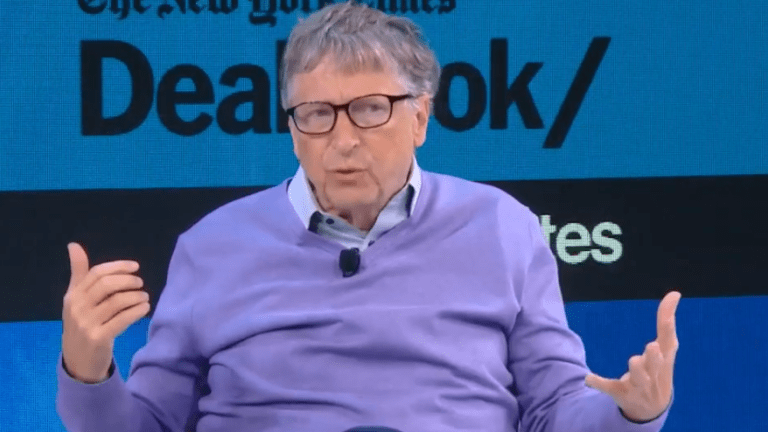 Bill Gates complains about Elizabeth Warren's Wealth Tax
Microsoft founder Bill Gates is not impressed with Democratic presidential candidate Elizabeth Warren's proposed wealth tax.
Speaking at The New York Times' DealBook conference, Gates stated that he favored higher taxes on the ultra-rich, but added that he would have to take a minute and "do a little math" over Warren's proposal given how much extra he would have to pay.
"[Over my life] I've paid over $10 billion in taxes. I've paid more than anyone in taxes. If I had to pay $20 billion, it's fine. But when you say I should pay $100 billion [over a lifetime], then I'm starting to do a little math over what I have left over," the billionaire said.
Warren has proposed a 6 percent tax on wealth above ten figures, meaning Gates could be liable for roughly $6.4 billion in taxes every year if approved.
Gates also refused to state who he would back in 2020 if President Trump and Warren went head to head:
"I'm not going to make political declarations," Gates said. "But I do think no matter what policy somebody has in mind … whoever I decide will have the more professional approach in the current situation, probably is the thing I will weigh the most. And I hope that the more professional candidate is an electable candidate."
During the conference, Gates also addressed his ties to pedophile Jeffrey Epstein, the billionaire financier who died in federal custody.
"I made a mistake in judgment that I thought that those discussions would lead, literally, to billions of dollars going to global health. It turned out that was a bad judgment. That was a mirage," Gates said. "And I gave him some benefit by the association. So I made a doubly wrong mistake there."