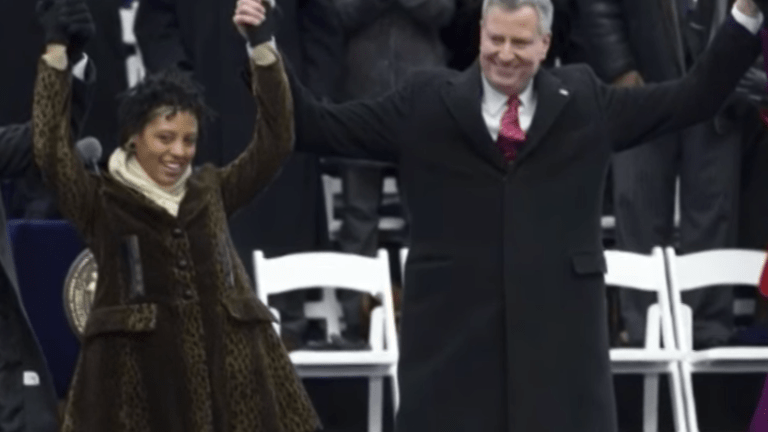 Bill de Blasio's Son Pens Op-ed on Police Racism
Bill de Blasio's Black son has penned an op-ed for USA Today, highlighting a conversation his father has with him about race and police relations.
Dante de Blasio titled the piece, 'My dad gave me 'the talk.' When someone called police, I felt the fear,' and appears to continue where de Blasio's Democratic debate speech of police relations with the Black community left off.
"When I was in eighth grade, my family and I went to Atlanta to visit some of my mother's relatives. Toward the end of the trip, my white father and two of my black cousins sat me down for a serious talk. They told me I was getting older and they needed to make sure that I knew how to talk to the police. They ran through what they thought were the most important things," Dante wrote before bullet pointing the information his parents shared with him.
*How to address police officers. Be extra polite and deliberate with your words. 'Don't try to be funny or casual.
*What to avoid — sudden movements, back talking, reaching for anything, even your wallet, without telling the officer what 'you're about to do.
*What the consequences of a small mistake could be — getting arrested or maybe even shot.
Some have given the op-ed the side-eye and accused the de Blasio of exploiting his son for political gain.
During last week's debate, de Blasio said the following: 
"For the last 21 years I've been raising a black son in America," de Blasio said.
"And I've had to have very, very serious talks with my son, Dante, about how to protect himself in the streets of our city . . . including the fact that he has to take special caution because there have been too many tragedies between young men and our police."
The Yale graduate then highlighted incidents of when he felt "the fear" growing up as a young, Black man, and writes that many Black men experience those same feelings.
"That fear I felt is not unique. That lecture I got from my father and cousins has been given to countless young black people. We're taught to fear the people meant to protect us, because the absolute worst-case scenario has happened too many times. This reality cannot continue."