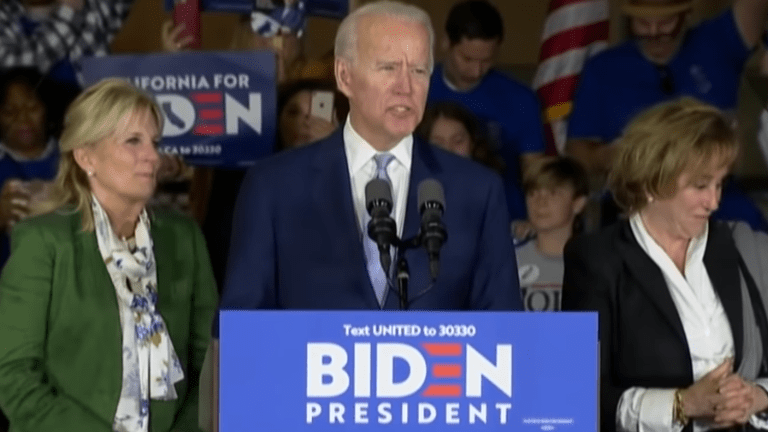 Biden thinks the country has had enough of debates
Former Vice President Joe Biden said it's time for the Democratic primary end the debates and "get on" with the business — which basically means that he wants Vermont Sen. Bernie Sanders to call it quits and get behind him.
"My focus is just dealing with this crisis right now," Biden said at a virtual press conference per The Hill. "I haven't thought about any more debates. I think we've had enough debates. I think we should get on with this."
Just yesterday, the Sanders campaign announced that they intend to participate in the 12th debate of the primary cycle. 
"If there is a debate in April, he plans to be there," Sanders spokesman Mike Casca said.
If there's one thing we know about Sanders, is that he isn't a quitter. So it's very likely that Biden will have to face Sander for the final debate in April.
During an appearance on The View on Tuesday, Biden said that he would not tell Sanders to drop out, but hinted that he thinks he should. "It's not for me to tell him to drop out.," Biden told the show's co-hosts. "It's up to Bernie to do what he wants to do."
Meanwhile on Wednesday, Sanders threatened to veto the newly proposed $2-trillion stimulus package.
"In my view, it would be an outrage to prevent working-class Americans to receive the emergency unemployment assistance included in this legislation," Sanders said in a statement shared on his social media.
"Unless these Republican Senators drop their objections, I am prepared to put a hold on this bill until stronger conditions are imposed on the $500 billion corporate welfare fund to make sure that any corporation receiving financial assistance under this legislation does not lay off workers, cut wages or benefits, ship jobs overseas, or pay workers poverty wages," he continued.