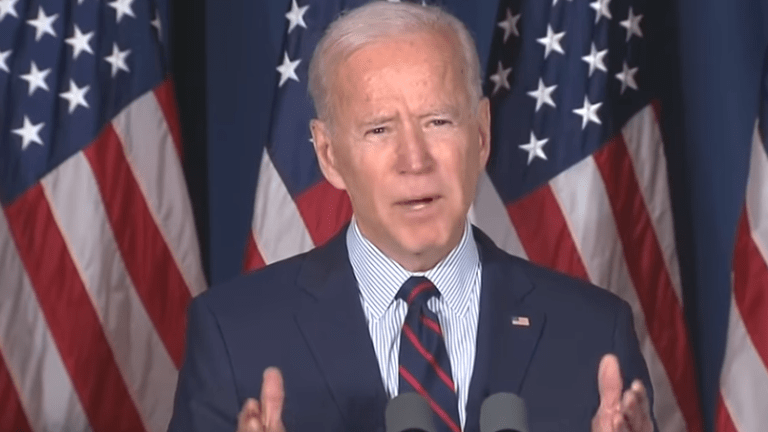 Biden calls for Trump's impeachment
Former Vice President Joe Biden is calling for the impeachment of President Donald Trump.
Biden says that the president "indicted" then "convicted himself" when he asked foreign nations to investigate the presidential candidate and his son.
"He should be impeached," Biden said per POLITICO. "He's shooting holes in the Constitution, and we cannot let him get away with it. This isn't a game, this is deadly serious."
Of course, it did not take the president long to catch wind of Biden's words, and he promptly hopped on Twitter to rip into the Democrat.
"So pathetic to see Sleepy Joe Biden, who with his son, Hunter, and to the detriment of the American Taxpayer, has ripped off at least two countries for millions of dollars, calling for my impeachment — and I did nothing wrong," Trump wrote. "Joe's Failing Campaign gave him no other choice!"
Biden's words come as the White House refuses to cooperate with the impeachment inquiry calling the move an illegitimate effort "to overturn the results of the 2016 election." 
The administration wrote a letter to the House Democrats stating that the inquiry had violated precedent and denied President Trump's due process.
"Your unprecedented actions have left the president with no choice," said the letter signed by Pat A. Cipollone, the White House counsel. "In order to fulfill his duties to the American people, the Constitution, the executive branch, and all future occupants of the office of the presidency, President Trump and his administration cannot participate in your partisan and unconstitutional inquiry under these circumstances."
House Democrats warned that the refusal to cooperate may also be grounds for impeachment:
"The White House should be warned that continued efforts to hide the truth of the president's abuse of power from the American people will be regarded as further evidence of obstruction," House Speaker Nancy Pelosi of California said in a statement. "Mr. President, you are not above the law. You will be held accountable."