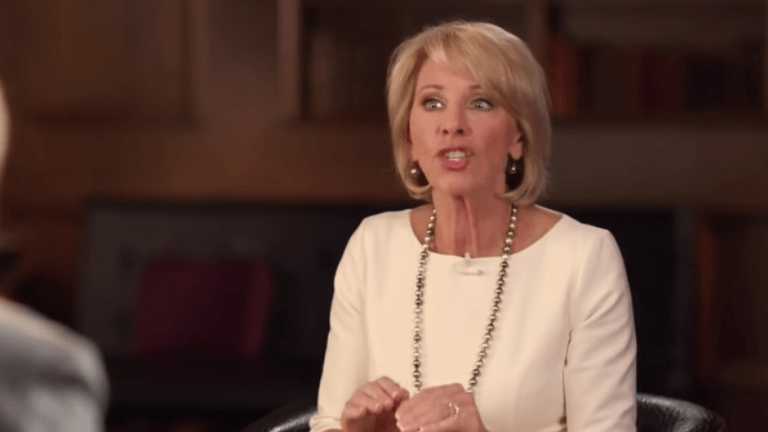 Betsy DeVos' Security Costing Taxpayers $20m
DeVos Demands 'Round-the-Clock' Security After Being Heckled
Education Secretary Betsy DeVos costs tax-payers almost $20 million dollars in security alone.
According to a report obtained by the Daily Beast, DeVos' around-the-clock security costs more than any other Trump Cabinet member receives.
The Justice Department says the expensive request was granted due to "threats" aimed specifically at DeVos. The protection was granted in February 2017, a few days after DeVos was heckled and then blocked by a handful of protesting parents and teachers from entering a school in Washington, D.C. 
"The order was issued after the Department of Education contacted administration officials regarding threats received by the secretary of Education," the Justice Department said in a statement.
DeVos may need to save some of those coins. A group called the Housing and Economic Rights Advocates is suing her for claiming the Department of Education has failed to comply with Borrower Defense regulations, as it was ordered to do, and that it continues to collect on loans that should be discharged.
"Under current leadership, the Department of Education seems determined to deny student borrowers the financial relief to which they are entitled... Secretary DeVos is still dragging her feet and hurting tens of thousands of borrowers through her inaction," Aaron Ament, president of the National Student Legal Defense Network, which filed the lawsuit on behalf of HERA, said in a statement.
The new suit is requesting that loans are discharged and borrowers are reimbursed for all past payments. It is also requesting that students' adverse credit history in relation to the loans to be cleared.