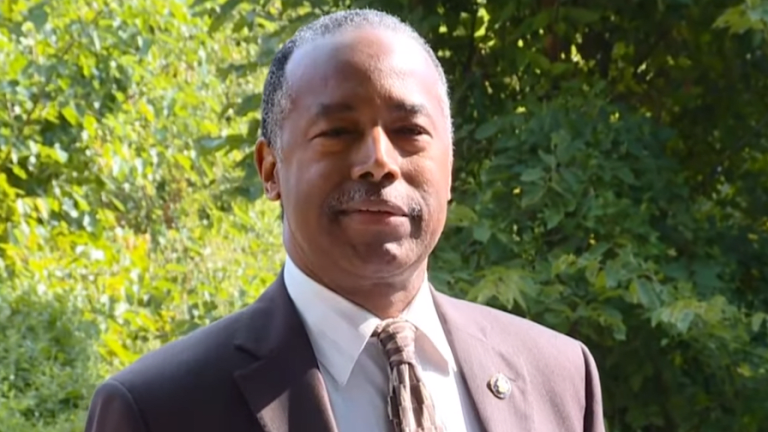 Ben Carson Kicked Off Baltimore Church Property
Housing Secretary Ben Carson faced another embarrassing episode after he was booted off a Baltimore church's property as he defended Trump and tried to discuss the city's issues.
His team were hoping to film a press conference in a vacant lot opposite Hollins Market - but the landowners were not having interested in accommodating Carson.
"When we're talking about helping people," he said. "This is the level we have sunken to in society."
"There are a lot of excellent and wonderful people here," adding that there "are a lot of good places in Baltimore as well. But there are problems, and we can't sweep them under the rug."
While holding his press conference, he took the time to toot his own horn:
"Where there were rats, roaches, mice, and ticks," Carson said, "where there was just an unabated lead problem that was having devastating effects on the mental development of young people."
"Somehow — I guess that's how God works — I ended up as the Secretary of HUD," Carson said. "And we can actually deal with these issues," he said before touching on President Trump.
"I've talked to the President over a couple of days about what we can do for Baltimore," Carson said. "He's very willing to work with people here in Baltimore, including with Elijah Cummings, but the President's emphasis is on the people."
Carson added that he'd like Trump to do a tour of the city:
"I would love for him to come — first of all to tour — have an opportunity to see things that work and don't work. Like I said before Baltimore has a lot of things to be proud of. There's been a lot of improvement in Baltimore over the last 20, 30 and 40 years,' he said.
"But there's also a lot of plight and a lot of things going on that are nor serving the people," Carson added.
When asked if Trump's remarks about the city were racist, he walked away.