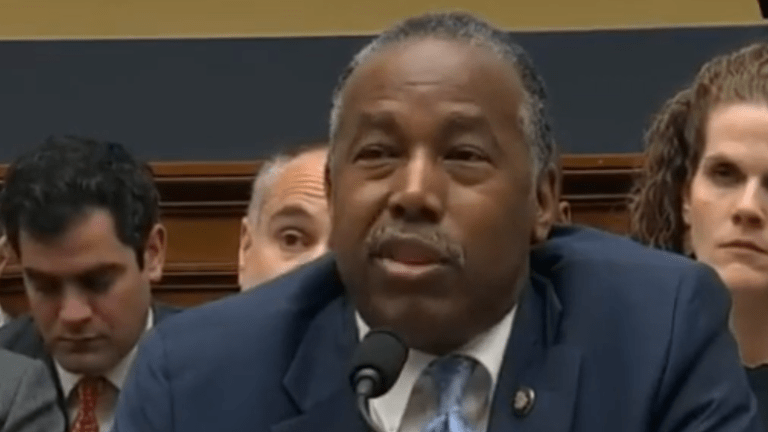 Ben Carson confirms that HUD intentionally withheld funds from Puerto Rico in Hurricane Maria aftermath
Secretary of Housing and Urban Development Ben Carson has confirmed that the HUD intentionally withheld funds from residents of Puerto Rico after Hurricane Maria devastated the island.
Carson was quizzed on the subject by Rep. Nydia Velázquez, (D-N.Y.) during a congressional hearing Tuesday.
"A lot of what we do is dictated by common sense," Carson said, adding that it was "unreasonable to send an unprecedented amount of money to a jurisdiction that had three changes of government within a month and which has historically had difficulties with financial management."
 Velázquez was quick to check Carson's ignorance and general lack of humanity:
"This is an abuse of power," Velázquez said. "It speaks to this administration's disregard for the people of Puerto Rico. Three thousand people died in Puerto Rico under your watch."
Since Hurricane Maria, Puerto Rico has only received one-third of the $43 billion allocated by Congress.
"Given the Puerto Rico government's alleged corruption, fiscal irregularities and mismanagement, we will appoint a Federal Financial Monitor to oversee the disbursement of all HUD disaster recovery funds," Carson said in the press release at the time. "The Federal Financial Monitor's guidance, coupled with our new, improved financial controls, will ensure recovery funds get to the people who need them most and protect taxpayers who are footing the bill."
Velázquez called Carson about those comments, implying that it is he who needs to be investigated for corruption.
"If this was about corruption, deal with your own corruption — when FEMA officials were arrested in Puerto Rico," Velázquez said.