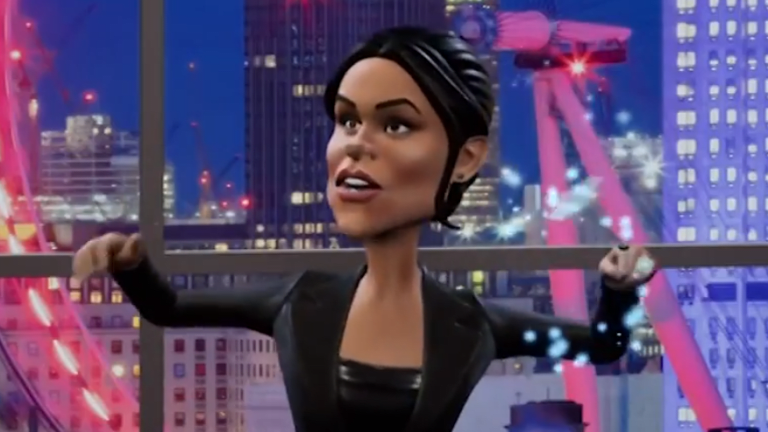 BBC Slammed for "Racist" Meghan Markle Cartoon
The BBC has come under fire for a comedy sketch which portrayed a racist 3D digital character of the Duchess of Sussex, Meghan Markle.
The BBC Two series "Tonight With Vladimir Putin" is a spoof chat show which turns celebs into 3D digital characters. In an episode, titled 'Meghan Markle's Royal Sparkle,' the Duchess of Sussex is portrayed in a racist manner as a trailer living, knife-toting American.
In the clip, Markle is asked: "What makes you angry?" and she refers to the Duchess of Cambridge asking to borrow her hairbrush.
"I say no because that's gross and then I leave my room and come back and I can tell she's used my hairbrush anyway because it's covered in skanky hair that's going grey and I say, 'Stay the f-*ck out of my trailer, or I'll cut you, Kate,'" she yells in the skit.
She is also asked what it's like being married to the Duke of Sussex, Prince Harry:
"I'm just wondering why you're so interested there, missy? I mean, what's that about? Do you have a problem with me and Harry? Are you trying to lay claim to my man?... "We can go right now, b*tch, you and me."
Viewers were appalled to say the least:
"The @RoyalFamily would NEVER allow a comedy show with Kate as the baddie who threatens to knife another royal, but yet they are cool with the @BBC show about Meghan portraying the stereotypes that white people have for black women like aggressive & intimidating 🤔 #MeghanMarkle," one viewer wrote.
Another tweeted, "WTF! BBC is so f*cking racist. They darkened Princess Meghan Markle's skin, gave her a more "ghetto voice," changed her attitude to angry just so they can make Kate seem more fragile and perfect. I mean they just fired someone for posting racist tweet about baby Archie Harrison."
Daily Telegraph editor Anita Singh also weighed in via Twitter:
"This genuinely might be the worst thing the BBC has ever put on TV. Apart from the baffling decision to include the Meghan Markle stuff, it is less funny than Mrs Brown's Boys."
The BBC is refusing to apologize for the offensive skit:
A BBC spokesperson said: "Viewers will clearly recognise this performance as a spoof and highly satirical, within the context of a programme which lampoons a wide range of public figures and the public's perception of them."