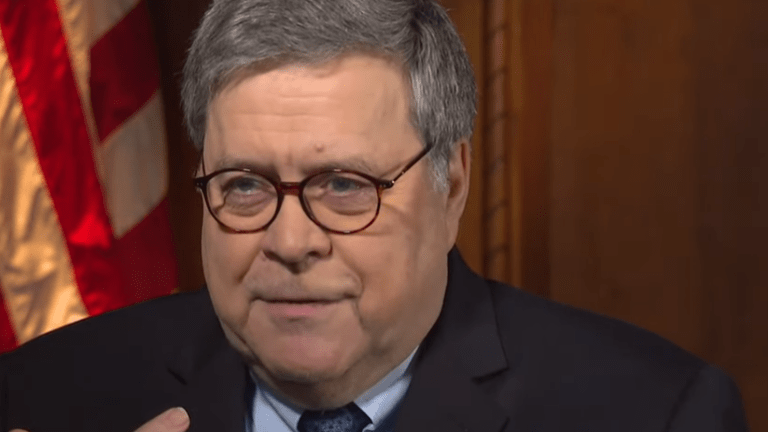 Barr wants Trump to stop tweeting about DOJ  criminal cases
Attorney General William Barr has expressed that he wishes President Donald Trump would stop tweeting about the Department of Justice criminal cases during an interview with ABC News.
In the interview that aired Thursday, Barr denied that Trump had ever asked him to do anything in a criminal case but advised the President to stop tweeting about the Justice Department, saying it makes it "impossible for me to do my job."
"I think it's time to stop the tweeting about Department of Justice criminal cases," Barr told ABC. "The president has never asked me to do anything in a criminal case." He added that Trump's tweets "make it impossible to do my job and to assure the courts and the prosecutors in the department that we are doing our work with integrity."
But if Barr knows Trump at all, he'll know that the President has no intention of curbing his tweeting habits.
In a statement following Barr's interview, White House press secretary Stephanie Grisham said that Trump "wasn't bothered by the comments at all and he has the right, just like any American citizen, to publicly offer his opinions." 
"President Trump uses social media very effectively to fight for the American people against injustices in our country, including the fake news. The President has full faith and confidence in Attorney General Barr to do his job and uphold the law," Grisham said. 
Trump has celebrated the reduction in Stone's sentencing recommendation, and on Wednesday, he tweeted "congratulations" to Barr for "taking charge" of the case.
"He was treated very badly. Nine years recommended by four people that, perhaps they were Mueller people, I don't know who they were, prosecutors," according to The Hill, the President told reporters in the Oval Office, referring to former special counsel Robert Mueller's investigation.
"I want to thank the Justice Department for seeing this horrible thing," Trump said, adding that he did not discuss the matter with DOJ. "They saw the horribleness of a nine-year sentence."