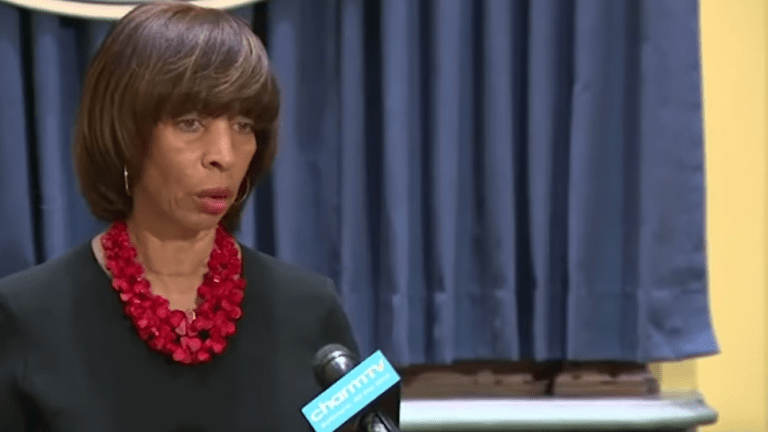 Baltimore Mayor Catherine Pugh resigns following book deal controversy
Baltimore mayor Catherine Pugh has resigned after calls for her to step down from her position grew following the scandal surrounding her 'Healthy Holly' book deal.
"Dear citizens of Baltimore I would like to thank you for allowing me to serve as the 50th mayor it has been an honor and privilege," her attorney Stephen Silverman read from her letter at a news conference. 
"I'm sorry for the harm that I have caused to the image of the city of Baltimore and the credibility of the office of the mayor. Baltimore deserves a mayor who can move our great city forward."
The resignation comes a week after FBI agents and IRS officials executed search warrants at Pugh's City Hall office, her two houses, and offices of the mayor's allies.
"Today, agents for the FBI and the IRS executed search warrants at the mayor's homes and offices," Maryland Gov. Larry Hogan said at the time. "Now, more than ever, Baltimore city needs strong and responsible leadership. Mayor Pugh has lost the public trust. She is clearly not fit to lead. For the good of the city, Mayor Pugh must resign."
Councilman Ryan Dorsey echoed Hogan's sentiment, stating that it was "beyond thinkable" that Pugh should return to a role in government. "If she has any ability whatsoever to put the welfare of the more than 600,000 residents of Baltimore City ahead of her own self-interest, she will not delay in offering her full resignation," he said.
Pugh became the center of a scandal over her allegedly murky dealings with a kids book series she authored. According to reports, Pugh landed the lucrative book sales deal with the University of Maryland Medical System. The no-contract arrangement for the 'Healthy Holly' series brought Pugh more than $500,000 while she sat on the institution's board, officials said.