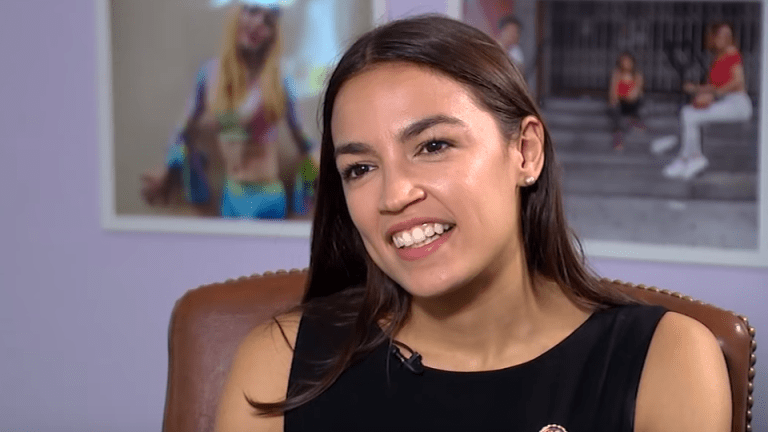 AOC blasts Boston Straight Parade: 'Seems more like a "I-Struggle-With-Masculinity" parade'
New York Rep. Alexandria Ocasio-Cortez took to Twitter to fire off at the city of Boston's Straight Pride parade.
"For men who are allegedly so "proud" of being straight, they seem to show real incompetence at attracting women to their event," Ocasio-Cortez tweeted. "Seems more like a "I-Struggle-With-Masculinity" parade to me. Hope they grow enough over the next year to support / join LGBTQ fam next #Pride!"
The Straight Pride parade was met with counter-protests. According to several reports, the parade did not end peacefully, with dozens being arrested and several police officers reportedly sustained injuries.
The parade, which began in Copley Square and ended in a rally at City Hall Plaza, was organized by a group called Super Happy Fun America. Critics slammed the group and its event as homophobic.
Thirty-six people were arrested and charged during the event.
Renee Algarin, a spokeswoman for the Suffolk District Attorney's office released a statement about the arrests:
"We respect the rights of individuals to protest and take part in the democratic process. However, that right never trumps acts of violence or behavior that creates a risk for other participants, bystanders, or police," Algarin said. "We're reviewing each arrest and will make informed decisions based on the facts of each and the policies of this office."
"I also want to be clear that sowing division between people is exactly the goal of Straight Pride organizers, and I will not stand for it," Boston Mayor Martin J. Walsh said in a statement.
"Just as the people of Boston work to make our values of love, inclusion, and acceptance known to all, our public safety officials work tirelessly to keep people safe from harm every single day of the year, and that will never change."