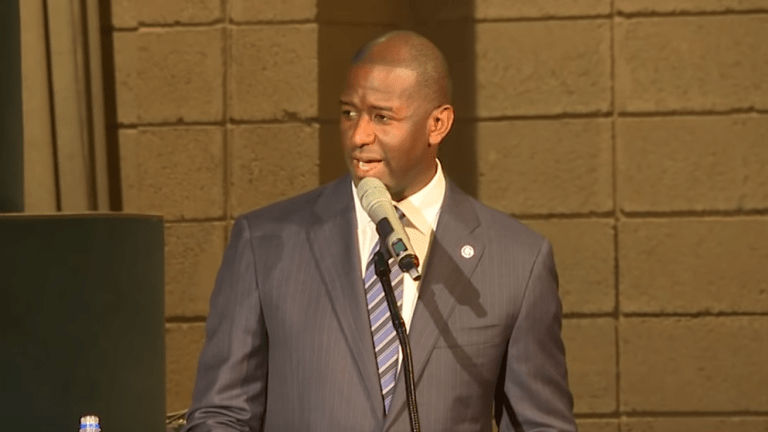 Andrew Gillum Withdraws Concession; Florida Braces for Recount
Democrat Andrew Gillum has finally withdrawn his concession to Republican former Rep. Ron DeSantis in the Florida governor's race over the weekend.
The news came just hours after the secretary of state announced a recount of their race and two others due to the numbers being very close.
"I am replacing my words of concession with an uncompromised and unapologetic call that we count every single vote," Gillum said. "We've learned in various parts of this state that there are still votes that are outstanding. There's even still in parts of this state some uncertainty around the total number of votes that are remaining to be cast."
Gillum has not made any allegations of foul play. DeSantis currently leads Gillum with 49.59% to the Gillums's 49.18%. 
Of course, Trump felt compelled to hop onto Twitter and cry foul.
"Trying to STEAL two big elections in Florida! We are watching closely!" he tweeted.
Gillum and Trump have been at odds since Trump hopped on Twitter a few weeks back and called the Tallahassee mayor a thief.
"In Florida there is a choice between a Harvard/Yale educated man named @RonDeSantisFL who has been a great Congressman and will be a great Governor - and a Dem who is a thief and who is Mayor of poorly run Tallahassee, said to be one of the most corrupt cities in the Country!," he tweeted. The president once again, stirring up divisive and hateful rhetoric.
The votes are now being recounted by machine and the votes must all be recounted by 3 p.m. on Thursday. 
Races within .25% will go on to a hand recount of overvotes and undervotes. An overvote means a voter selected more than the allotted options on the ballot; an undervote means a vote selected fewer than the available choices or, in these races, none. 
View Gillum's withdrawal speech below.