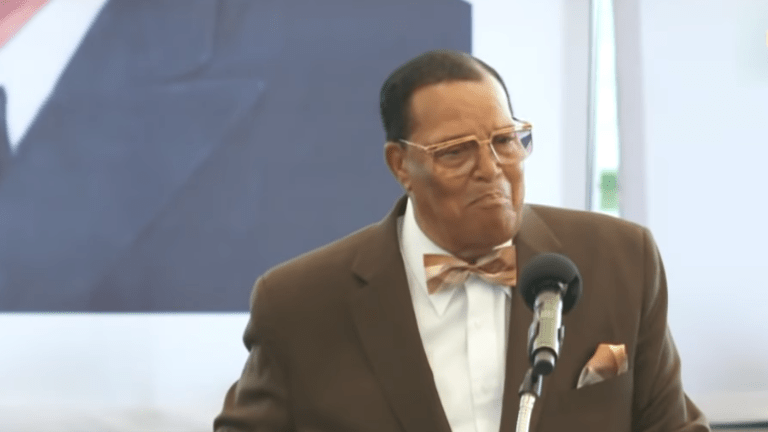 Alt-Right Blames Farrakhan For Synagogue Shooting
Much like their feckless leader, the Alt-Right have no problems finding an easy scapegoat for their crimes.
Minister Louis Farrakhan is the alt-right's newest target, as they are currently pointing finger's at the National of Islam leader for the synagogue shooter. On Saturday, a gunman opened fire inside a Pittsburgh synagogue. The police have already arrested a suspect. 
Robert Bowers, 46, allegedly entered the Tree of Life Congregation Synagogue, shouting hate for Jews, gunning the members down in an attack which is said to have lasted 20-minutes. Eleven people lost their lives during the attack and Bowers is charged with 29 criminal counts, including 11 federal hate-crime charges. There are a further 11 counts of using a firearm to kill carry a maximum penalty of death. It is likely that Bowers will receive the death penalty.
Bowers did not vote for Trump as he felt that Trump was "soft on Jews" but he shared many of the viewers of the alt-right and many believe his actions to have been bolstered by Trump's more radical views. However, the alt-right are not taking any responsibility for Bowers and instead, blaming Louis Farrakhan for inciting hate towards the Jewish community.
"After the Synagogue shooting leftists must be held accountable for promoting rabid antisemite @LouisFarrakhan. 
Farrakhan called Jews "Satan," compared Jews to parasites that must be exterminated & called Hitler a "great man."
Here's Obama, Clinton, Waters & Holder embracing him'" one alt-righter tweeted.
"Obama Responds To The Synagogue Shooting With A Powerful Call To Americans"
Says Obama whose pastor was the anti-semitic Rev. Wright, who posed with the anti-semitic Farrakhan, and who invited the anti-semitic Sharpton to the White House over 70x!" radio host Larry Elder wrote.
"You don't care about antisemitism, if you did, Farrakhan wouldn't be on Twitter, because you'd go after Twitter day after day just like you did when you wanted to see Jones banned. 
And you don't care about violence, because suddenly you don't think rhetoric can incite it," typed another.
Former Congressman Joe Walsh also added, "Yes, the Pittsburgh killer was a far right anti-Semite, but the truth is that anti-semitism has a home on the fringes of both the far right and far left.
Just start with Louis Farrakhan, Linda Sarsour, & Keith Ellison. There's a long list of Jew haters on both left & right."
The backlash comes after a video of Farrakhan stating "I'm not anti-Semitic, I'm anti-termite." Many interpreted his words and being anti-semitic and it's this that the Conservatives are saying motivated the synagogue shooting.
Now The Republican Jewish Coalition is demanding the resignations of 7 Democratic members of Congress, allegedly "connected" Farrakhan. 
"There can be no question about how abhorrent it is for these Democrats to be connected to Louis Farrakhan. Farrakhan is first and foremost a preacher of hate. He preaches about Jewish "control" over the government and media and has claimed to have "pulled a cover off of that Satanic Jew," saying "your time is up, your world is through." And those were just the comments from last week.
Anti-Semitism is unacceptable. Farrakhan is the moral equivalent of a leader of the KKK. If it was discovered that members of Congress had met with the leader of the KKK, they would need to resign. In this case, for meeting with, and embracing, Louis Farrakhan, nothing short of resignation is acceptable from these seven Democrats," part of the statement reads.
The group is asking that Reps. Keith Ellison, D-Minn.; Barbara Lee, D-Calif.; Maxine Waters, D-Calif.; Danny Davis, D-Ill.; Andre Carson, D-Ind.; Gregory Meeks, D-N.Y.; and Al Green, D-Texas all step down.