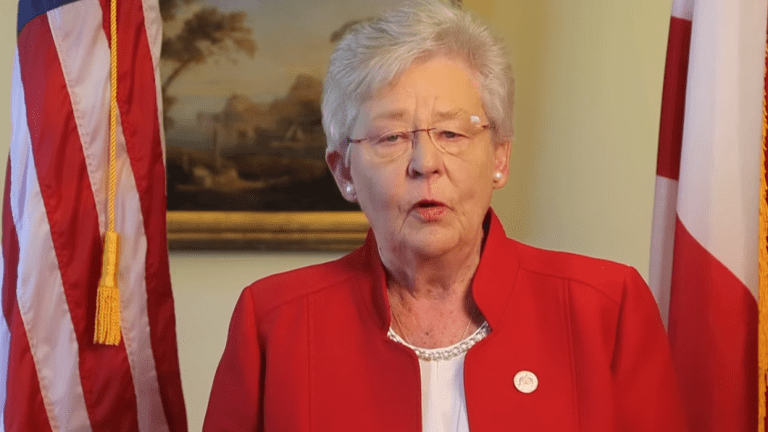 Alabama Gov. Kay Ivey apologizes for college blackface skit
Gov. Kay Ivey of Alabama has apologized for participating in a racist skit that involved blackface when she was a college student.
Ivey, a Republican, said she was made aware of a taped interview that she and her then-fiance, Ben LaRavia, gave to an Auburn University student radio station when she was a student there, per Politico.
"Even after listening to the tape, I sincerely do not recall either the skit, which evidently occurred at a Baptist Student Union party, or the interview itself, both which occurred 52-years ago," Ivey said. 
"Even though Ben is the one on tape remembering the skit — and I still don't recall ever dressing up in overalls or in blackface — I will not deny what is the obvious."
While she says her memory of the skit is hazy, she acknowledges her wrong-doing and apologized.
"As such, I fully acknowledge — with genuine remorse — my participation in a skit like that back when I was a senior in college," she said in the statement. "While some may attempt to excuse this as acceptable behavior for a college student during the mid-1960s, that is not who I am today, and it is not what my Administration represents all these years later. I offer my heartfelt apologies for the pain and embarrassment this causes, and I will do all I can — going forward — to help show the nation that the Alabama of today is a far cry from the Alabama of the 1960s. We have come a long way, for sure, but we still have a long way to go."
Sen. Doug Jones (D-Ala.) later told POLITICO: "I appreciate the way Governor Ivey has addressed this in a straightforward manner. Accepting responsibility while apologizing and expressing remorse are important ways to move beyond our mistakes. "
"Governor Ivey now has a unique opportunity to do more than any Alabama governor in recent memory to correct the injustices that still exist in our society," he added. "I hope she will seize it."
The apology comes just months after Gov. Ralph Northam of Virginia, a Democrat, apologized for a blackface photo of two men surfaced in Northam's medical school yearbook. One of the men wore blackface, and the other was in Ku Klux Klan robes. Northam was one of the editor's of the college yearbook.
The scandal caused national Democrats and Republicans to denounce Northam, 59, who apologized but did not resign. He is still in office.