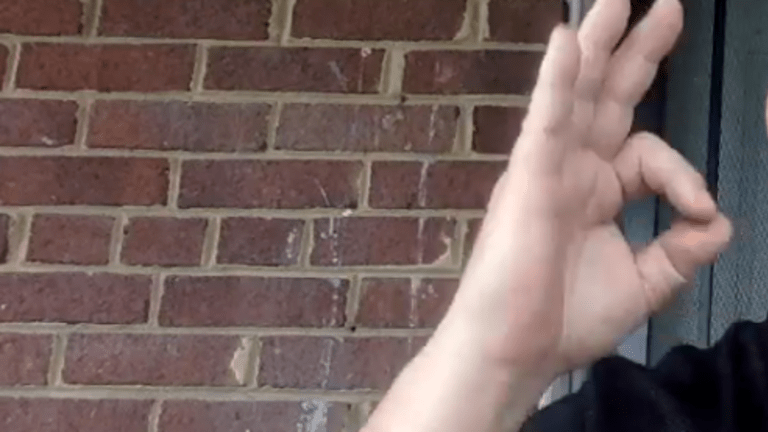 Young Republicans apologize after member makes white power sign during MLK parade
The Tarrant County Young Republicans have issued an apology after a member made a hand gesture associated with white supremacy in a photo at the Martin Luther King Jr. Day parade in Fort Worth.
In the photo, which was originally posted on the group's Facebook page, a group of about 20 people can be seen posing with a Tarrant County Republican Party banner at Monday's parade. But in the background, a man, who has since been identified as Robert Coe, can be seen making the OK symbol, which the Anti-Defamation League recognizes as a hate symbol.
According to the Star-Telegram, Coe is the precinct chairman for precinct 1111 in Fort Worth, and Tarrant County Young Republicans named him "Young Republican of the Year" in December.
The news outlet reached out to Coe, who told them "that situation has already been taken care of," adding, "There is no need to report on it. The situation has been resolved."
In response to the online backlash, the Tarrant County Young Republicans tweeted, "It's not a real white power symbol, he does that b/c he thinks it's funny how crazy leftists get over a fake symbol. Nonetheless it was inappropriate/dumb, and we'll be talking w/ him. Rest assured though, he is no white supremacist. Bit of a troll perhaps...but a good kid."
Mark Pitcavage, a senior research fellow at the ADL, condemned the gesture:
"I can hardly think of a worse place to troll people with a symbol associated with white supremacy than at an MLK parade," Pitcavage said about Coe. "Even taking them at their word, this is at best very poor judgment and in very poor taste."
The photo has been removed from the group's social media platforms.